Exchange Bank Celebrates Grand Opening of New Branch in East Petaluma
Aug. 24, 2017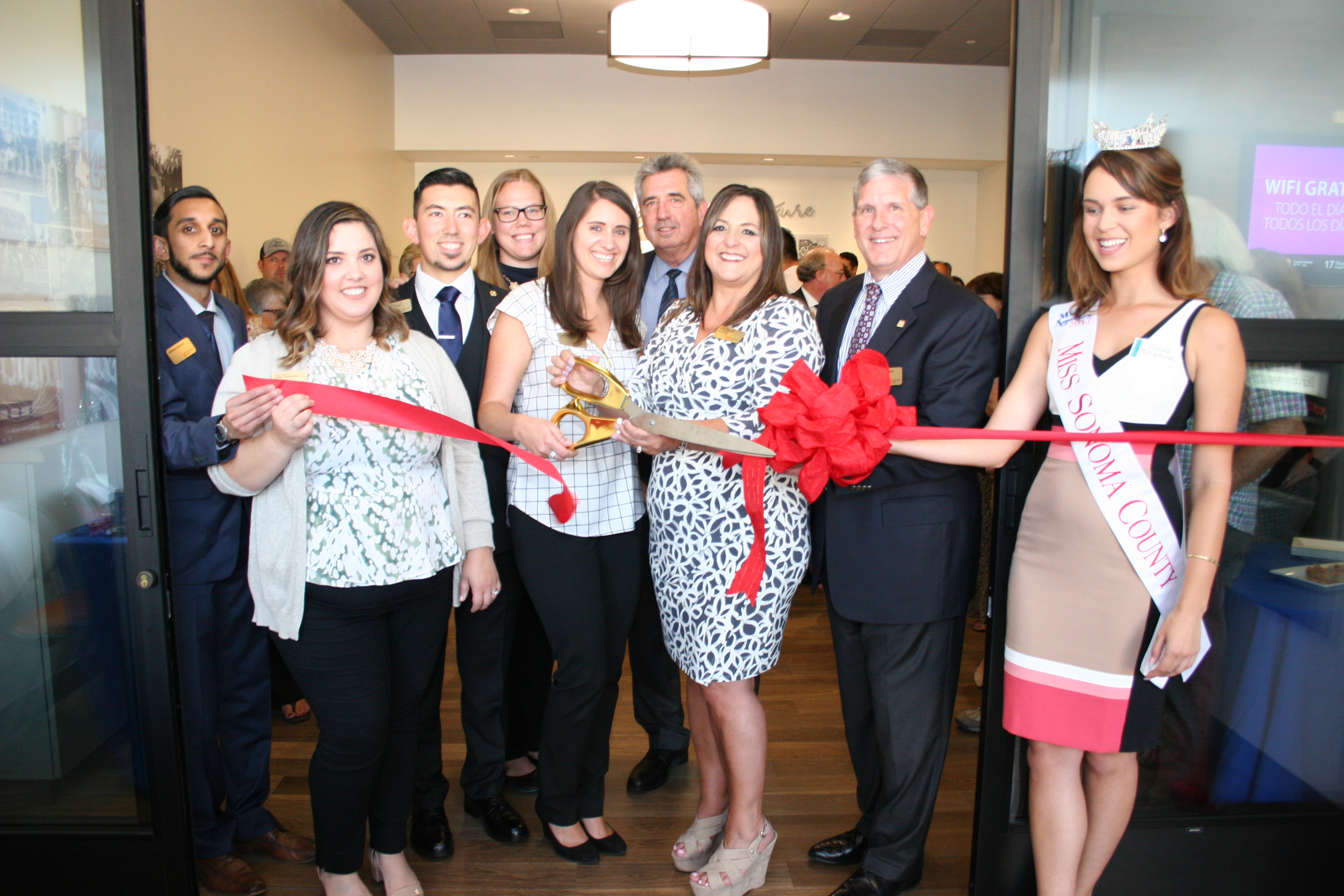 Santa Rosa, CA – (August 18, 2017) - Exchange Bank (OTC:EXSR) celebrated the grand opening of its new Petaluma East branch with a ribbon cutting ceremony and reception on Thursday, August 17, 2017. The event was co-hosted by the Petaluma Chamber of Commerce and held at the new location at 453 N. McDowell Blvd., Suite 10, Petaluma, CA 94954.
In attendance at the event were Exchange Bank and Petaluma Chamber customers, members and guests. The new branch opened its doors on Monday, June 19, 2017 and replaces a branch previously located at 701 Sonoma Mountain Parkway in Petaluma.
The new branch is designed to make customers feel welcome the moment they walk in. The design elements reflect the natural colors and textures found in the community and provide an open feeling that customers have described as "beautiful, open and spacious." The traditional branch design has been replaced by an environment that allows customers to move at their own pace between technology-based transactions and personal service.
"Our vision was to create a warm, welcoming space that reflects the spirit of the community, where our customers feel comfortable transacting business and receiving financial advice," said Ann Hudson, Senior Vice President, Retail Banking.
The new branch includes a lounge-like area with "smart" screens featuring financial education and community events, a coffee bar, free Wi-Fi, digital technology, and a kids zone to keep little ones busy while parents do their banking. Customers interact with banking specialists at "pods" equipped with cash recyclers for quick service. Glass door offices offer privacy for consultation and in-depth interactions.
"We want to continue to evolve the Bank to meet the needs of our customers—with innovative spaces, technology and knowledgeable staff members, said Ann."
Business hours at the new location remain unchanged (Monday-Thursday 9am-5pm, Friday 9am-6pm) with the addition of Saturday hours from 9am-1pm, giving customers one more day to do their banking.
The staff at our new branch look forward to greeting customers and visitors. Edie Cheda, Vice President/Branch Manager and a Petaluma native, is available to answer questions.
Edie can be contacted at (707) 766-1544.
---
About Exchange Bank
Headquartered in Sonoma County and founded in 1890 with assets of $2.2 billion, Exchange Bank is a premier community bank providing a wide range of personal, commercial and trust and investment services with 18 branches in Sonoma County and a commercial and SBA lending office in Roseville and Marin, California. The Bank's legacy of financial leadership and community support is grounded in its core values of Commitment, Respect, Integrity and Teamwork.
Exchange Bank is a 12-time winner of the North Bay Business Journal's North Bay Best Places to Work survey and received the 2016 Healthiest Companies in the North Bay award. NorthBay biz magazine named Exchange Bank 2017 Best Consumer Bank. Exchange Bank can also be found in the North Bay Business Journal's listing of leading SBA 7(a) Lenders, Wealth Management Advisors and Wine Industry Lenders. www.exchangebank.com.