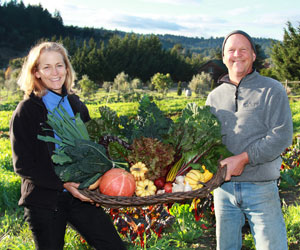 ---
On less than three acres, Susan Bryer and Ernie Shelton grow a significant portion of the produce for Shelton's Natural Foods Market in Healdsburg. Bryer, a graduate of the Sonoma County Beginning Farmer & Rancher Training program, had prior experience with a backyard garden, but when she met up with Ernie, she had to ratchet up her skill set to tackle this much larger acreage.
Shelton had long envisioned doing a market garden for the family store. As one of the owners of the three Food For Thought stores in Sonoma County in the 90s, Shelton has 30 years of experience growing and marketing natural foods. Bryer comes to the project with a strong background in customer service, so they complement each other nicely. For Bryer, the business training, and time spent with experienced farmers and ranchers were big pluses she gained from the above mentioned training program. Both of which helped them focus on effective growth strategies for their farm. Bryer and Shelton are in sync with why they're doing this – being their own boss, and the ability to provide fresh delicious produce that encourages customers to make more healthy food choices.
Shelton's Market Garden is located in Sebastopol. They farm on three sites, all within a mile of each other (one piece Shelton owns and the other two are leased). They also have greenhouse space for vegetable starts and propagation.
Because of their cool climate location, Bryer and Shelton grow the appropriate crops: greens, lettuce, beets, squash, fennel, etc. – over 60 varieties. They also grow culinary herbs, strawberries and raspberries.
Diversifying with livestock, they've added a flock of chickens and are selling eggs. There is a coop and also some "free-ranging" areas for the hens. They bring compostable produce from Shelton's back to the farm for building soil, as well as a treat for the chickens.
In addition to selling product to the family grocery store, Bryer and Shelton run an on-site farm stand that is open seasonally on Wednesday and Saturday from 9-1 (now closed for 2012 season), which serves primarily local neighborhood clientele. They share recipes and offer tastings. Produce is picked at what Bryer calls "its fullest expression", so plenty of flavor, vibrant colors, vitamins, and minerals.
In addition to the store and farm stand, they have restaurant and catering accounts, and a regional distributor. Having certified organic produce is a must for certain markets and being "local" helps too.
Shelton believes that independent certification and accountability are important. He explains that organic certification requires an "Organic System Plan" that addresses all aspects of the farm's operation. While it is a significant added expense for a small farm, he notes that it is worth it to continue to support the efforts that occurred over many years to maintain the integrity of the organic food marketplace and increase organic food production.
Their plans for the future include a high tunnel (thanks to partial funding from National Resource Conservation Service) which will allow them to extend their growing season. They will continue to diversify their markets and more broadly promote their partnership with Shelton's Natural Foods Market and their farm stand. Growing the poultry flock is part of the plan, as well as the possibility of plunging into the agri-tourism realm.
It seems they will continue as a "market garden". Bryer says in their blog, "We're constantly balancing the efficiency of growing specific high-demand items in volume, with the delight of experimentation and variety. We're small enough that we can try things and see how customers respond. Last year, for instance, we grew our first Red Kuri squash, mostly because I wanted to try it in a specific soup. We sold every squash immediately – except for the few we intentionally hoarded in the garage. People raved, and wanted more. That's the great fun of a market garden – we know exactly what we are selling, because we eat and work with it every day."
For more information: www.sheltonsgarden.com
Sonoma County Made Local Champion