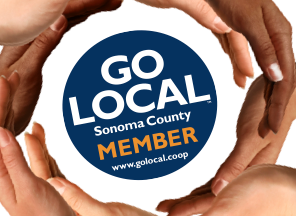 ---
Here's an overview of some of GO LOCAL's achievements in 2014:
Made Local Magazine Logs a Stellar First Year.
In late 2013 GO LOCAL launched Made Local Magazine, a magazine in support of the Sonoma County Food System Alliance's Food Action Plan, which was adopted in 2012 by the Sonoma County Board of Supervisors. Richly illustrated and professionally produced, Made Local Magazine has an issue run of 12,000 with five issues per year, and tells the stories behind the Food Action Plan and connect local consumers to the producers, agriculturalists, and technologists who bring excellence to the local palate.
"Made Local" Branding Further Expands in the North Bay.
Within the GO LOCAL brand lie several innovative niche brands, and chief among them is the Made Local, seen at local independent grocers and other merchants throughout the North Bay. Responding to the USDA's request for area food hubs in 2011, GO LOCAL's Made Local Sonoma County brand was expanded in conjunction with one of those hubs, the North Coast Regional Food System Network. Made Local branding in 2014 continues to serve not only Sonoma, but also Marin, Mendocino, and Lake counties by promoting thousands of regionally made food and beverage items.
"Grown Local" Means Food You Can Trust.
Earlier in 2014 the Community Alliance of Family Farmers adopted GO LOCAL's Grown Local branding to assure consumers that their food is locally raised and harvested. Its use has been widely spread to farmers' markets and other outlets where consumers purchase fresh, healthy foodstuffs.
Event Spotlight: Food System Innovation.
In September, GO LOCAL co-produced an event called "Imaging a Healthy Local Food System" as part of the North Bay Innovation Week and in partnership with CAFF, UC Cooperative Extension, and County of Sonoma Department of Health Services. In two locations at two different times on one day, the event drew over 150 attendees.
"GO LOCAL" Means Rewards for Buying Local.
The GO LOCAL Rewards Card is a loyalty card that offers local residents rebates on everyday purchases from multiple local businesses. In 2014 alone, the GO LOCAL Rewards Card produced $5.6 million in sales, accruing an additional benefit of over $2 million to the local economy. GO LOCAL Rewards is a free service for member businesses and for local resident cardholders.
Membership expands.
Business and organization membership has reached 382 members across all sectors as of late December 2014. Our annual retention rate has topped 80% over the past two years, up from 60% before that.
Seasonal Campaigns Continue.
GO LOCAL launched its second annual "Independents Month" and "Take an Indie Holiday" campaigns in July and December, respectively. GO LOCAL provided marketing collateral for the campaigns and generated a steady flow of promotional activity for each.
Brand Value grows.
Members have really stepped up the use of the brand family of GO LOCAL logos. We estimate in 2014 we reached an aggregate total of 600 million gross impressions.