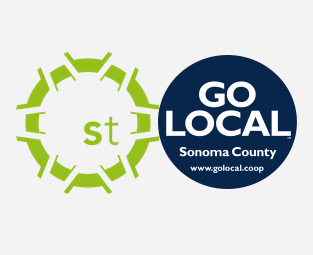 ---
GO LOCAL has entered into a new five-year management agreement for management services to be provided by Sustaining Technologies (ST). This agreement culminates several months of diligent effort by the GO LOCAL board and ST members to create a business structure that could best position both companies to grow the localization initiative in Sonoma County.
ST is now embarking on a capital raise to expand the rewards card program in Sonoma County. GO LOCAL's Rewards Card is a leading edge program that introduces a local first initiative with a price savings card. Cardholders support local businesses within the GoLocal network, thereby supporting the local economy, and as a reward they earn rebates and direct discounts on items they buy every day.
Background
For the past few years Sonoma County GO LOCAL Cooperative and Sustaining Technologies of Sonoma County have operated as a strategic partnership to unite local businesses and organizations to work together. Our united mission is to reclaim our local economic power by taking decisive actions that support local enterprises first. Tens of thousands of people in the general population support this cause through their daily purchasing of goods and services.
You're probably more familiar with GO LOCAL than you are with Sustaining Technologies. That's because GO LOCAL is the marketing face and brand of our united mission and Sustaining Technologies is the management and technology engine of the enterprise.
The growth of our mission, as measured by several key indicators, has put us in a place that we will raise investment capital to provide the necessary infrastructure to ensure quality service and value for our members and our public programs. Business and organization membership has grown from 35 founding members to 290 today (the number has quintupled in the past two years). Our brand value has grown to a whopping $8.2 million; nearly tripling in the past year alone. Rewards Card is out of beta mode and now supports over 12,900 cardholders, 149 merchants and an average of $100,000 monthly electronic transactions.