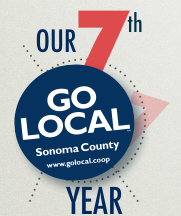 ---
GO LOCAL is proud to celebrate its seventh year of promoting robust local economic development in the North Bay. Launched in November 2008, GO LOCAL now has 375 members and has become one of the most recognized brands in the North Bay through print, TV, radio, transportation, newsletters, emails, point-of-sale promo, online and social media. Included in our member base are over 30 nonprofits and government agencies, underscoring the many benefits derived from partnerships between local organizations and local businesses.
"As an economic development principle, buying from locally-owned businesses produces a direct dividend due to the money spent circulating through more cycles of buying and selling," says GO LOCAL's co-director Terry Garrett. "An example of the opposite effect is buying something on Amazon, in which 100 percent of your money for that purchase leaves Sonoma County. By contrast, if you buy an item from a locally-owned business, your money can be used to pay local wages, rents, and services like legal, advertising and accounting, and more."
"Made Local" Means Building Local Wealth and Jobs
Within the GO LOCAL brand lie several innovative niche brands. Chief among them is the Made Local initiative, seen at local independent grocers and other merchants throughout the North Bay. Responding to the USDA's request for area food hubs in 2011, GO LOCAL's Made Local Sonoma County brand was expanded in conjunction with one of those hubs, the North Coast Regional Food System Network. Made Local branding now serves not only Sonoma, but also Marin, Mendocino, and Lake counties by promoting thousands of regionally made food and beverage items. With this focused brand awareness, GO LOCAL anticipates a growth of $200 million in annual sales for area producers within the next few years.
In 2013 GO LOCAL launched Made Local Magazine, a bimonthly magazine in support of the Sonoma County Food System Alliance's Food Action Plan, which was adopted by the Sonoma County Board of Supervisors in 2012. Richly illustrated and professionally produced, Made Local Magazine has an issue run of 12,000 and strives to tell the stories behind the Food Action Plan and connect local consumers to the producers, agriculturalists, and technologists who bring excellence to the local palate.
Earlier in 2014 the Community Alliance of Family Farmers adopted GO LOCAL's Grown Local branding to assure consumers that their food is locally raised and harvested. Its use has been widely spread to farmers' markets and other outlets where consumers purchase fresh, healthy foodstuffs.
"Bank Local" Means Leveraging our Money for Local Use
Local financial institutions have been instrumental in launching and sustaining GO LOCAL from the start. This past year, in collaboration with the City of Santa Rosa Economic Development Staff and Finance Department, the City moved $1.5 million, the regulatory limit, in deposits to local banks and credit unions. Deposits in local financial institutions means more funds available for local loans.
The GO LOCAL Rewards Card is a loyalty card that offers local residents rebates on everyday purchases from multiple local businesses. In 2014 alone, the GO LOCAL Rewards Card will produce $6 million in sales, accruing an additional benefit of over $2 million to the local economy. GO LOCAL Rewards is a free service for member businesses and for local resident cardholders.
"Unlike such deep discount programs as Groupon, our GO LOCAL Rewards Card is intended give a little something back to shoppers as thanks for supporting local businesses, while simultaneously demonstrating the local economic multiplier—what gets spent locally, stays local," says Garrett.
---
Founding members, sponsors, and board representation come from Clover Stornetta Farms, Community First Credit Union, Community Market, Copperfield's Books, Exchange Bank, Friedman's Home Improvement, Guayaki Sustainable Rainforest Products, Indigenous Designs, Kindred Fair Trade Handcrafts, Oliver's Markets, Redwood Credit Union, Summit State Bank, Sustaining Technologies, The Leadership Institute for Ecology and the Economy, and Traditional Medicinals.