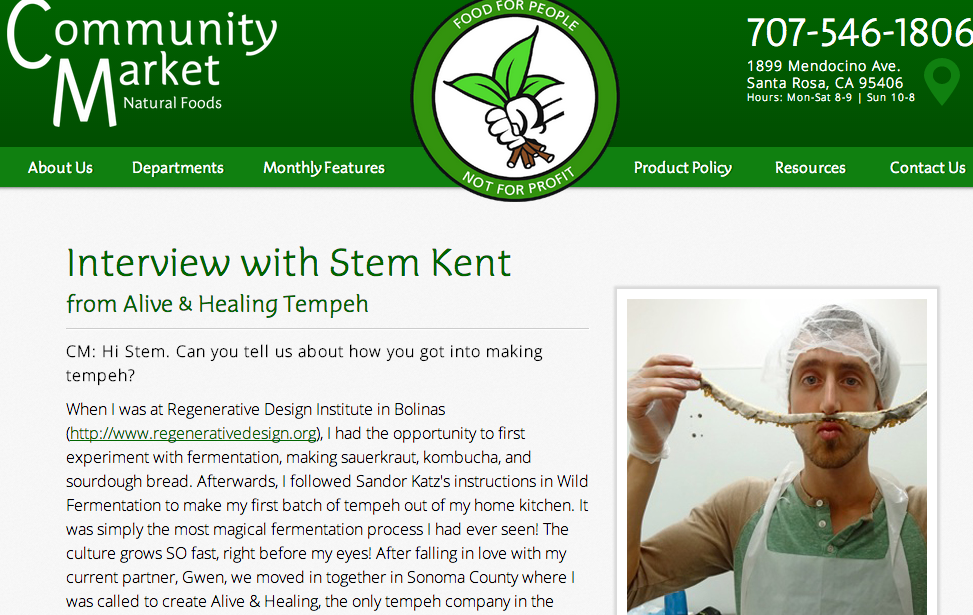 ---
GO LOCAL member Community Market takes the time in their August newsletter to interview fellow GO LOCAL member and producer Stem Kent of Alive and Healing Tempeh.
When local businesses work together like this in mutual support, citizens understand the connections and become more educated about choosing local first.
---
Interview with Stem Kent
from Alive & Healing Tempeh
CM: Hi Stem. Can you tell us about how you got into making tempeh?
When I was at Regenerative Design Institute in Bolinas (http://www.regenerativedesign.org), I had the opportunity to first experiment with fermentation, making sauerkraut, kombucha, and sourdough bread. Afterwards, I followed Sandor Katz's instructions in Wild Fermentation to make my first batch of tempeh out of my home kitchen. It was simply the most magical fermentation process I had ever seen! The culture grows SO fast, right before my eyes! After falling in love with my current partner, Gwen, we moved in together in Sonoma County where I was called to create Alive & Healing, the only tempeh company in the North Bay.
CM: Tell us about the healing properties of tempeh.
Tempeh is a pretty remarkable food. By taking the healthy properties of the soybean and then fermenting it with an ancient culture, what results is a nourishing and healing food for our bodies. While it is well known as a great source of plant-based protein, what people don't generally know is that tempeh is extremely high in manganese, containing about 70% of our daily recommended amount. Manganese, while important for the normal functioning of the brain and nervous system, is also beneficial for healthy bone structure, absorption of calcium, and many other important components of good health! Tempeh is also high in fiber, potassium, iron, and calcium, while being low in fat and having zero cholesterol and sodium. Lastly, the live culture that ferments the soybeans makes the beans much more digestible, breaking down the oligosaccharides in the beans which make its nutrients more easily absorbable in the body. The culture, called Rhizopus Oligosporous, also creates digestive enzymes during the fermentation process, which further assists in our digestion.