May 8, 2012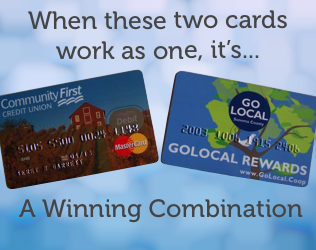 A unique rewards card that currently offers users spendable rebates called GO LOCAL Bucks and loyalty rewards at locally owned businesses throughout Sonoma County, will nearly double the size of its user base through a pilot program with Community First Credit Union, a local financial cooperative.
Sustaining Technologies (ST), developer of the GO LOCAL Rewards Card, has coded its system to accommodate existing and future debit cards users at Community First. Beginning July 2, 2012, more than 4,000 Community First members will be able to use their credit union debit card simultaneously as a GO LOCAL Rewards Card. Both cards are cost-free to users.
This pilot will be the first step in scaling up the GO LOCAL Rewards Card program. As the system expands, it is planned for the debit cards of other locally based credit unions and community banks to be integrated as well.
The GO LOCAL Rewards Card is a network loyalty program that supports locally owned businesses and encourages consumers to shop local, support community and save on purchases by using a magnetic-stripe cards at check out. ST developed the web-based software that functions as a business search platform for web and mobile and handles the transaction processing and accounting between cardholders and merchants.
The pilot project with Community First expands the number of GoLocal Rewards users from 5,500 to 9,500. Currently, over 150 local merchants offer GO LOCAL Rewards. That number is expected to double each year for the next four years.
"Our Members will be introduced to local merchants where they can save on purchases while supporting the Sonoma County economy," said Todd Sheffield, CEO of Community First. "As a bonus, our members won't need to carry an additional card as they can use their existing debit card for regular and rewards purposes," he added.
Enhanced security and stability have been added to the GO LOCAL Rewards Card as it has to comply and interface with the more stringent security measures required by a state chartered financial institution such as Community First.
GO LOCAL Rewards Card Background
GO LOCAL Rewards Card officially launched in January 2010 with its first merchant and a few cardholders. Please visit the following links to learn more about its sales history and how the system works.