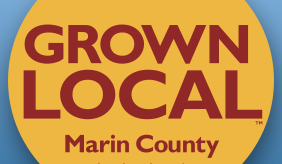 ---
GO LOCAL has licensed the use of food related logos to Agricultural Institute of Marin to expand awareness about local food systems. The North Coast Regional Food System Network is comprised of five counties who are working together to promote local agriculture. Marin County is the first among them to adopt GO LOCAL branding.
Approximately 167,000 acres in Marin are farms or ranches. This amounts to fifty-percent of the land in Marin. The average size of a farm in Marin is 523 acres, and operations range from first generation to fifth generation family-owned farms. Marin farmers and ranchers produce a wide variety of products including dairy and meat products, fruits and vegetables, grapes, and aquaculture.
GROWN LOCAL Marin County is a collaborative effort of agricultural organizations and producers in Marin County. It is a part of a growing effort focused on building and supporting locally owned businesses in Marin County.
What does GROWN LOCAL Marin mean?
GROWN LOCAL partners are Marin-based producers of agricultural products. The GROWN LOCAL badge helps you clearly identify food producers who are based right here in Marin County. Local farmers and ranchers themselves helped to develop the GROWN LOCAL badge to let consumers know they are working hard to grow and raise fresh, healthy food right in your backyard.
Please support local farmers in Marin County by buying products with the Grown Local label.
Visit The Grown Local Marin website.