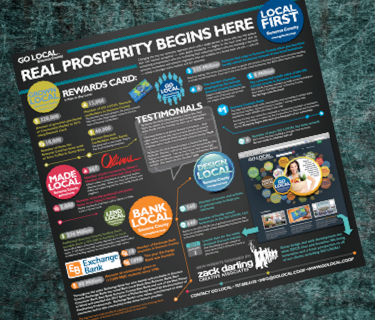 ---
Many thanks to the incredible folks at Zack Darling Creative Associates (GO LOCAL member) for producing this gigantic infographic that appeared in a center insert in the Bohemian on December 5th, 2012.
It's not often we get a chance to put this much information about what we're doing in one presentation like this. Of course, we could produce many of these and just begin to tell the story of all the tremendous things our members are doing. But just as real prosperity begins here, so does this story.
We also thank Exchange Bank for their generous support to produce this infographic and to Oliver's Market and Copperfield's Books for participating in the Bohemian insert and consistently supporting the efforts of GO LOCAL.
Click on the image to enlarge.