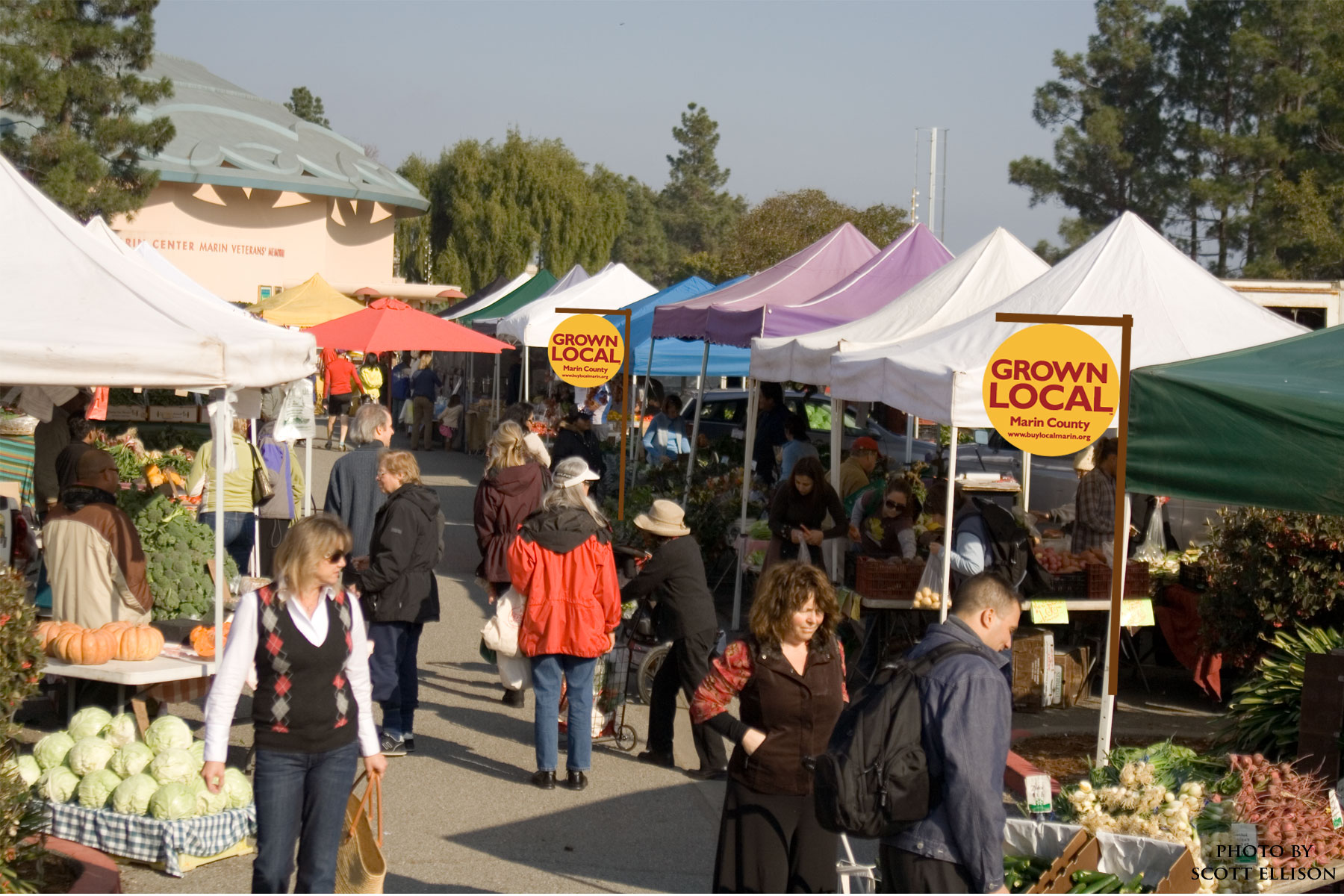 ---
This article appears in the Marin Independent Journal and is written by Megan Hansen
AS THE OWNER of 1,000 acres in Inverness, rancher Julie Rossotti believes it's important to support local businesses. She's hoping a new countywide campaign featuring labels emblazoned with "Grown Local Marin County" will encourage Marin's more than 255,000 residents to support local food producers.
About half of Marin, at about 167,000 acres, is comprised of farm and ranch land. Agriculture in the county contributes more than $49 million a year to the local economy, with milk production dominating at 55 percent. Rossotti said the new labeling campaign is part of a Grown Local Marin pilot program aimed at promoting local products such as fresh produce and meats.
"We all take a lot of pride in the fact that we're from Marin County," Rossotti said. "We want our consumers to know it's from their backyard."
A similar marketing program called GoLocal is in place in Sonoma County, where locally owned independent businesses have formed a cooperative to promote themselves. Marin is borrowing aspects of Sonoma's plan for its spin-off program, along with Mendocino, Lake and Napa counties. Supporters of shopping local say doing so will keep more money in the county, keep jobs local, create a stronger tax base and reduce the need for trucked-in goods — ultimately reducing gasoline consumption and greenhouse gas emissions.
Marin Supervisor Steve Kinsey, a board member of the Marin Agricultural Land Trust, said he's excited about the program's Marin launch.
"I think it over time will strengthen our identity while also reinforcing the same approach in Sonoma County, which I think is important that we work together as a foodshed," said Kinsey, referring to the geographic area where a food item is produced and ultimately consumed. Many items made in Sonoma are consumed in Marin and vice versa.
Sonoma County GoLocal Cooperative managing member Terry Garrett said the retail campaign has been successful, encouraging more money to be spent in the community. He said the goal is to have all local connections between supplies and end products.
"The more we can substitute what we import, the more jobs we can create here," Garrett said.
He said Sonoma developed its campaign and opted to share it with other counties in the North Coast Regional Food System Network, a group focused on rebuilding the regional food system and improving distribution.
Sarah Darcey-Martin, spokeswoman for the Agricultural Institute of Marin, said the specific Grown Local Marin idea took form in October 2010 at the Marin Agricultural Summit. Ranchers and farmers said they wanted a way to advertise themselves as a whole, letting people know Dolores Evans loads a truck with hay at the historic H Ranch on Wednesday, Feb. 27, 2013, near Inverness, Calif. She has helped launch a new program promoting locally grown produce and locally raised meats, called ÒGrown Local Marin CountyÓ. (IJ photo/Frankie Frost) Frankie Frost their products are only miles away from consumers.
"They have to be based in Marin, producing or growing at least 51 percent of their product in the county," Darcey-Martin said about participants.
For $65, farmers and ranchers will receive the special "Grown Local" stickers and a sign to display at farmers' markets. They also will be featured onwww.buylocalmarin.org. The program is being sponsored by five groups, including the county Board of Supervisors and representatives from the Agricultural Institute of Marin, University of California Cooperative Extension Marin, Marin Agricultural Land Trust and Marin Organic.
Darcey-Martin said the pilot program will be evaluated at the end of one year, but everyone who wants to participate is encouraged to apply now and join the campaign.
"We're hoping for 35, 50, as many as we can get," Darcey-Martin said.
Rossotti, the owner and operator of Rossotti Ranch and two parcels of ranch land specializing in grass-fed goats and pasture-raised veal, said she is part of the committee that created the local program. She said an overarching trademark identifying food providers as local is needed because most ranches are named after the family running them. Typically the name doesn't signify where they are based.
"It's hard to know a lot of times, from the consumer side, to know where their product is from," Rossotti said.
Guido Frosini, owner of True Grass Farms in Valley Ford, said he's excited about the program because there's nothing else like it. Having just received his farmers market sign, Frosini said he's looking forward to debuting it this weekend while selling grass-fed beef, pork and chicken eggs in Mill Valley and the Bay Area.
He said it's important for people to know where their food is coming from and how it is produced. He also said it's important for an organization to be in place to verify claims of locality.
While most people go to the grocery store to get their food, which may or may not disclose where an item is from, Frosini said there will be no doubt in people's mind when they see the "Grown Local Marin County" label.
"People can actually come and visit the farms the food is coming from," Frosini said.