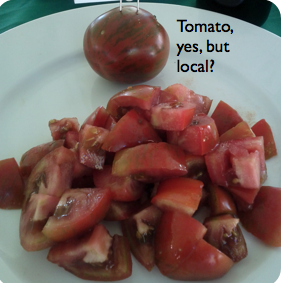 ---
On August 30, Safeway received a letter from a Santa Rosa lawyer questioning their practice of labeling "local" food. Shop at a Safeway in California and any food you find labeled as "locally grown" has simply been grown somewhere in the State.
Here's the letter Anthony Cohen sent to Safeway's General Counsel Robert Gordon. Mr Cohen wrote the letter on behalf of growers, consumers and retailers - many of whom he works with on a daily basis. Mr. Cohen says that "no one wants to take on the 'food monster'", but that he wrote the letter because he believes "the practice is wrong". In the letter he poses a challenging question: what does local mean when Safeway advertises that produce is labeled "locally grown"? All he wants is for Safeway to clearly explain what they mean by local - "what is your rule?" he asks.
At Whole Foods, local can mean that the food comes from anywhere less than a 7 hour drive away, although many Sonoma County stores have signage explaining exactly where food comes from.
At Oliver's Market, all local products come from Sonoma County. Three markets, three entirely different definitions.
How do we decide what to buy, what to eat and how to shop?
Local food has become a commonplace discussion in Sonoma County. We know that purchasing food grown and processed in Sonoma County helps keep jobs and money in our economy. For every $100 spent at Oliver's on local goods vs. a national brand, there is at least a 32% larger impact on Sonoma County. That means every time we purchase food produced in Sonoma County, more of our dollars are recirculated here. (You can download an analysis by Rob Eyler of SSU used as the source for the preceding statements).
Retailers know that people will pay more for local goods. This quickly leads to a market full of locally labeled food. When you spend more on an apple grown locally, do you want to know that it is from Sonoma County? Do you care if it is from Marin or Napa? Would you rather it be from California than Washington? Grown in the US instead of another country? Can you even make that decision if "local" is definied differently everywhere you go?
While we wait on Safeway to respond to the letter, it is time for a real discussion. A discussion not just about local food, but about truth in labeling and retailers sharing enough information with shoppers so that each and every one of us can make educated decisions about the products we buy, food we consume and companies we support.
Oliver's Market makes it clear that each of the 5,000 products labeled "Made Local" or "Grown Local" in their stores is either grown or manufactured in Sonoma County. It is easy for shoppers to decide which items to buy based on their personal preferences for local purchasing. Community Market of Santa Rosa, Shelton's Market and Big John's also indicate local food with "Made Local" labels provided by GO LOCAL.
According to the Safeway website, there are 12 stores in Sonoma County. If each of those stores proudly labeled food grown in California as just that, they could help lead the way to a more accurate labeling system. In 2011, California accounted for 15% of national receipts for crops, and 9 of the top 10 agricultrual producing counties in the US are in California (CDFA Agricultural Production Statistics) . We should be thrilled to live in a state that can provide such a large quantity of food. However, a tomato from Bakersfield is not the same as a tomato from Santa Rosa or Petaluma.
Mr. Cohen believes that "local food" should mean that the food comes from "commute distance". That the "farmer who grew the food should be able to communte to where it is being sold". What do you believe? Perhaps it matters to you how far your food travels, or how the farm it is grown on hadles environmental issues. Maybe you want to know the farmer who grew it, maybe you dont. We all have to make our own decisions about what is important to us. Shouldn't the stores provide the information we need to make that choice?