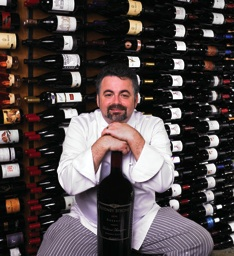 ---
Josh Silvers of Syrah Bistro and Jackson's Bar & Oven
GoLocal Member since 2009
What is your fondest memory of living in Sonoma County?
That's easy, watching my son being born at Santa Rosa Memorial Hospital.
Describe what you experience as the greatest treasure of Sonoma County.
It's beauty and its people.
What for you defines 'quality of life'?
A loving family, good friends, good food and wine and the time to enjoy it all.
What gets you really excited about your business?
A room full of happy guests eating and drinking, smiling and having a good time. I am very excited that I opened Syrah Bistro in 1999 and it's still going strong. Recently, I was able to open a more casual restaurant named after my son: Jackson's Bar & Oven featuring my dream oven - A 6,500 pound wood-fired beast named Clifford.
Thinking about your business, what keeps you up at night?
A small business is like a small child, you never stop worrying about it. One week, I'm thinking about payroll and next week, it may be what is wrong with the hood.
If you could have one wish come true for Sonoma County, what would it be?
That we preserve our uniqueness and continue to come together more to solve some or our community's problems.
What is your favorite quote or motto?
Cooking in Sonoma County is a chef's playground.
What or who do you most admire in Sonoma County?
There are many people here I very much admire. We are so fortunate in that way. I especially admire all the talented artisans from the bread makers and cheese makers to the vintners and wine makers. Oh and then there my fellow chefs and the farmers that make it possible for us to do what we do.
What brought you to Sonoma County?
Several things actually: I have family here, my uncle owns Oliver's Markets and my grandmother lives next door to him. I wanted to move closer to family and have a family of my own. My lovely bride and I moved up here and opened a restaurant. I chose Sonoma County also because it fosters a symbiotic relationship between food and wine. It was perfect for a restaurateur.