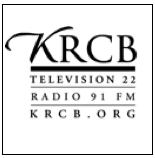 ---
KRCB Public Television is proud to announce Season Seven of NATURAL HEROES beginningMonday, December 21 at 7:30 pm. NATURAL HEROES is produced locally by KRCB, distributed nationally, and is the winner of seven Emmy® awards.
The seventh season of this 13-¬part, half-¬hour anthology series features independent films highlighting people making positive environmental changes. Series Producer Valerie A. Landes enjoys the challenge of searching for the best independent, environmentally-themed films to feature. "It's the rare person that's inspired by doom and gloom. The filmmakers who create the films featured on NATURAL HEROES bring some hope and encouragement to the environmental movement!"
TERRA FIRMA is an independent film featured on NATURAL HEROES that Landes is especially excited about sharing with viewers. "TERRA FIRMA redefines who we think of as a Natural Hero," she says. This powerful film features three female veterans who come home from war very changed by the experience.
They each find farming is their path towards healing. Explains one veteran who now feeds the hungry in her hometown, "I can't fight in wars anymore, but I can fight hunger. And I can be a hero in my community by being a farmer." (debuts on KRCB Monday, December 28 at 7:30pm)
The new season kicks off with QUEEN OF THE SUN, an engaging look at the global bee crisis. "Four out of every ten bites of food you consume, you would not consume if not for the work of the honeybee," says author and activist Michael Pollan. The film shares the eye¬opening struggles of pollination when people get involved, and what we can do to help. (debuts on KRCB Monday, December 21 at 7:30pm)
The series also profiles local heroes like Sonoma County musician and nature sound scientist, Dr. Bernie Krause, in NATURE'S ORCHESTRA. Krause has recorded the sounds of over 15,000 species, and we travel with him to the Arctic to record natural sounds, creating a marriage of science and art. "Natural soundscapes connect us with where we are, and with our deeper selves."
Beyond the television series, there is also a robust web site www.naturalheroes.org where viewers can continue their learning experience by connecting with causes, learning more, downloading the extensive project-¬based learning guide, and watching full episodes online.
---
KRCB Public Television broadcasts from studios in Rohnert Park, California, on digital channels 22.1, 22.2 & 22.3 and is seen over the air throughout much of the San Francisco Bay Area. KRCB is also seen on Channel 22 via Comcast Cable, AT&T U¬verse, Dish and DirecTV satellite services across the entire San Francisco Bay Area.
Contact Information: Valerie Landes, Series Producer, Natural Heroes. (707) 584¬2024 naturalheroes@krcb.org