Dorothy Granada, co-founder and 20-year director of the María Luisa Ortiz Women's Health Clinic in Mulukukú, Nicaragua, is working on a new project: training "mentors" to work with midwives and other health care givers in remote rural areas around the city of Matagalpa. Her fundraising US tour brings her to the Sonoma County Peace and Justice Center in Santa Rosa on May 10.
By: Philip Beard
April 26, 2012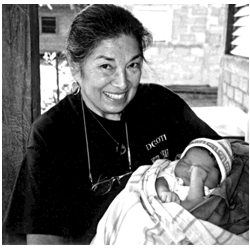 Back in 2004, Dorothy Granada made a presentation at Sonoma County's Peace and Justice Center about her pathbreaking healthcare work on behalf of Nicaragua's rural poor. I introduced her there to my friend Joseph Marino, President of DC Power Systems, who had expressed interest in outfitting Dorothy's "María Luisa Ortiz" women's clinic in remote Mulukukú with a solar-electric generating system. That meeting set the stage for what at the time was the largest photovoltaic installation in Nicaragua, a project that Joseph and I coordinated in 2005. Many Sonoma County activists contributed generously to that effort.
Ms. Granada, now in her 80's, has moved on from Mulukukú. She is returning to Santa Rosa to talk about her current large-scale project, undertaken in collaboration with the Nicaraguan Ministry of Health. She will be speaking at the Peace and Justice Center, 467 Sebastopol Ave., Thursday May 10 at 6:30 p.m.
Dorothy's pilot project Skills to Save Lives is reducing death and illness among women and girls in rural Nicaragua by introducing the role of the Mentor. The mentors are nurses working out of health centers serving distant communities of the midwives/health care workers in the mountains around Matagalpa. They work closely and respectfully with 100 traditional midwife healers to offer enhanced skill sets to save lives, focusing on the reproductive life of women and girls. This work broadens the understanding of women's health beyond the reproductive processes, including women's and children's rights, violence in the family, nonviolent conflict resolution, using healthy environments and adequate diets to prevent and reduce illnesses, understanding gender roles and sexuality, and preventing unwanted pregnancies.
Dorothy is optimistic that this critical health care model will be replicated across the country and elsewhere.
She believes that the true heroes of the health care system in Nicaragua are the traditional midwives, health brigadistas, curanderos, raiceros and other health workers in communities who respond to the pain, fevers, diarrheas, and accidents of their neighbors. These health workers live far from health facilities, in remote areas with poor roads and often impassable rivers.
Dorothy has earned many awards for her work, including the national Fellowship of Reconciliation's 1997 International Pfeffer Peace Prize.
Please join us on Thursday May 10 to learn more about this project and hear her first-hand insights and updates into a changing Nicaragua.
Admission is free, but voluntary donations will be accepted to support Dorothy Granada's ongoing work providing health care for poor people in Nicaragua.
For information contact Philip Beard, (707) 481-3480 or phbeard@mac.com.