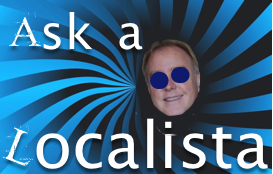 ---
Dear Localista,
I'm from Napa County and stumbled across your website searching for a local bookstore. One of your members has a location in Napa County. What difference does it make whether I shop at a local bookstore in Napa, at the Sonoma County owned store, or at our neighborhood Barnes & Noble?
Avid Reader
Calistoga

Dear Avid Reader,
Great question and the answer is related to a previous answer given under "Local vs Locale". GoLocal represents Sonoma County and we urge residents to support our locally-owned businesses within our county lines.

So, if what's good for the goose is also good for the gander, then we could expect each community (Napa County in this case) to encourage residents there to shop in their locally-owned bookstore.

Barnes and Noble, in the scenario you described, would be the choice of last resort. There is something to be said for a "regional" economic awareness when choosing stores, which means that a store owned by someone within the region (the North Bay) is a better choice than one owned outside the region. And let me add one more choice that pushes B&N up a notch, in that B&N in your community is a better choice than buying from an online store that has no local presence.

Just imagine concentric circles that go out from your local area and cover the US domestic landscape. Each person and community has to define what local means. In a survey that we conduct, most people define local in this order: my neighborhood, my city, my county, the SF Bay Area and beyond that there is practically no recognition that it's local.

As an avid reader myself, I choose a store based on local first and then consider how well the store serves my needs for selection. We're blessed with great book stores in our region (locally-owned) and I'm always able to get what I need.

So, feel good about shopping at your local store or the Sonoma County-owned bookstore and know that I can rest easy with that advice because I occasionally buy Napa wines. See how that works?
Ask a Localista is a new column that features questions from folks like you who want to know more about our local scene. Maybe you've been trying to find a product or service locally, but just can't find it. Or maybe you want to know what the heck we're up to. Our crack research team will set to work to help you. Submit your questions below in the form and click 'Submit'.