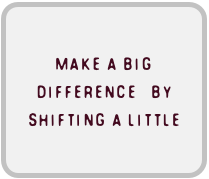 ---
What is the Shift?

Shift represents moving purchases of goods and services from out-of-county-owned-businesses (OCOB) to locally-owned businesses (LOB). This includes purchases made by individual residents, visitors, businesses and local governments.

Commonly referred to as 'share of market', i.e. LOBs and OCOBs receive a share of all market purchases.
Fact: We know the total amount of the market for goods and services purchased from all Sonoma County businesses (LOBs and OCOBs), which is $12.8 billion for 2007. (US Census Bureau)

What we don't know:

We don't know the amount or share purchased from LOBs vs. OCOBs.
We don't know the exact amount spent respectively by individual residents, visitors, businesses and local governments to create the market of $12.8 billion.

Simple Unit of Measurement—1%

Since we know the total market, but not the share of market, we can assume that LOBs and OCOBs claim some share of the total market of $12.8 billion. From the total market, we can calculate a simple unit of measurement of 1%, which is $128 million.

Let's Shift 1% This Next Year

That means that we want to shift 1% or $128 million in purchases from OCOBs to LOBs. That simple shift will recirculate about $32 million more within Sonoma County, which can contribute to creating new jobs and strengthening existing local enterprises.
When You Join GO LOCAL—Shift Happens

Joining GO LOCAL as a member or getting and using a free GO LOCAL Rewards Card at local merchants means more than esprit de corps, or rallying around the 'buy local' initiative. Markets need community. To increase quality of life, communities need markets and businesses that serve the community first and foremost. Think about it for a second, if the big, Wall Street banks that created our financial crisis operated from a sense of responsibility to their community, would they have behaved so recklessly?

OCOBs choose markets based upon the best known information available that tells them what value they can extract to serve their global interests (think sales in the form of market share).

LOBs choose communities first and markets second. LOB owners live here and experience the quality of life, or its deficiencies, based upon their own actions. LOBs offer a depth of relationship and connections within a community that far exceed those of OCOBs.

GO LOCAL is comprised of LOBs and local residents who come together to create meaningful connections and shared knowledge about their values, preferences and expectations. The result is that over time this network of local residents and local businesses builds trust. It's trust that transcends the anonymity of a marketplace without a community. LOBs earn trust and have a vested interest in preserving community through good behavior—their reputations, goodwill and very survival depend on it.

How You Can Shift 1%

It's easy. Let's say you make 100 trips a year to grocery stores. Maybe you choose an OCOB grocery store on 50 of those trips and LOBs on the other 50 trips. Just shift one of those from OCOB to a LOB, then it's 49:51. That's it. If you're inspired after that simple step, then apply the same step to other categories of businesses like restaurants, coffee shops or shoe stores.

Feel free to leave comments on this page to share your thoughts and experiences around making the 1% shift.