Mark Escalera & Kelly Hennessy answer the GoLocal questionnaire to help you better know the people behind the business.
Jan. 17, 2011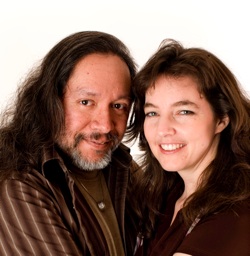 Mark Escalera & Kelly Hennessy of Net Effect
GoLocal Member since 2010
What is your fondest memory of living in Sonoma County?
Our fondest memory is having our wedding ceremony, under the redwood trees, in a grove outside of Occidental with all of our family and friends present.
Describe what you experience as the greatest treasure of Sonoma County.
In our opinion it is the land. It is what makes Sonoma County such an attraction for all the wonderful people who live here. It defines the air, the water and all the bounty we receive from her.
What for you defines 'quality of life'?
The quality of one's life is defined by the quality of one's "state of mind." It is the only real determining factor and the one he have the most control over. Living in Sonoma County helps though!
What gets you really excited about your business?
Net Effect's Charging for Charities program. It is our way of realizing the vision of the "win-win" situation. Where the good fortune of one is the good fortune of all.

Also, the connection we have with our clients is a benefit that we enjoy of our business.
Thinking about your business, what keeps you up at night?
What keeps us up at night is ruminating on how we can express our spiritual nature through our work. There is fire there that excites our being and is not conducive to sleeping!
If you could have one wish come true for Sonoma County, what would it be?
That all the people of Sonoma County come to live in a way that is mutually beneficial and sustainable for all our relations.
What is your favorite quote or motto?
"The proof of the meditation in the cave is in the marketplace." - yogi saying

"Labora est ora (Let work be your prayer)." - St. Benedict
What or who do you most admire in Sonoma County?
The people we most admire are our children's teachers at Live Oak Charter School in Petaluma: Ms. Leah Shue and Ms. Lois Wildgrube. They have our awe and gratitude!
What brought you to Sonoma County?
Kelly came to Sonoma County to attend Sonoma State University. Mark came to Sonoma County to be with his circle of friends and five days after arriving met Kelly!