---

Announcing GO LOCAL's 2020 Recovery Fund for Local Businesses
We are pleased to announce a matching funds program that enables participating businesses to double their GO LOCAL marketing and advertising spend, to help them reach local customers and recover sales in a more affordable way during this challenging time.
LOCAL BUSINESSES CAN APPLY FOR THESE MATCHING FUNDS OCTOBER 1ST, 2020 UNTIL FUNDS ARE SPENT.
*AS OF 10/16/20, FUNDS ARE SPENT.*
---
How does it work?
This program is targeted to locally owned Sonoma County businesses who know they need to invest in some level of marketing and advertising immediately to help them increase their marketing presence and sales. Businesses who apply must be ready to commit either $500 or $1000 of their own investment to receive that same amount in matching funds. A total of $22,000 in matching funds is available to support 22-44 businesses, depending on the number of businesses applying at the two commitment options.
Businesses commit $500 of their own for a total of $1,000 in marketing/advertising to spend with GO LOCAL, or
Businesses commit $1000 of their own for a total of $2,000 in marketing/advertising to spend with GO LOCAL.
---
What can funds be spent on?
GO LOCAL (the membership co-op) and Sustaining Technologies, LLC (the media company) are managing and administering these funds. Selected businesses will work with the GO LOCAL/ST team to assess their needs and to craft a custom marketing/advertising plan for their budget. The business' total budget of $1,000-$2,000 can be spent on a menu of GO LOCAL marketing and advertising options.
---
How does my business apply?
The application period starts Thursday, October 1st at 8am and applications close when the funds are spent. Selected businesses will be contacted starting October 9th, 2020. Selection will be based on:
Date of application submission
Current status as a locally-owned business in Sonoma County.
A very brief need statement, describing impact of 2020 events to their business income.
Ability of business to submit full payment within 30 days of program selection, or in 2 installments within 60 days.
ALL FUNDS HAVE BEEN ALLOCATED & APPLICATONS ARE NO LONGER OPEN.
PLEASE STAY POSTED NEXT YEAR FOR A POSSIBLE 2021 LOCAL BUSINESS RECOVERY FUND!
---
What happens once businesses are selected?
Selected applicant businesses will be contacted on October 9th or immediately thereafter to set up a phone, online or in person meeting to craft their customized marketing/advertising plan from GO LOCAL's menu of offerings.
---
Thank you to our sponsors, funding a total of $22,000 for 2020:
(and additional thanks to one anonymous donor)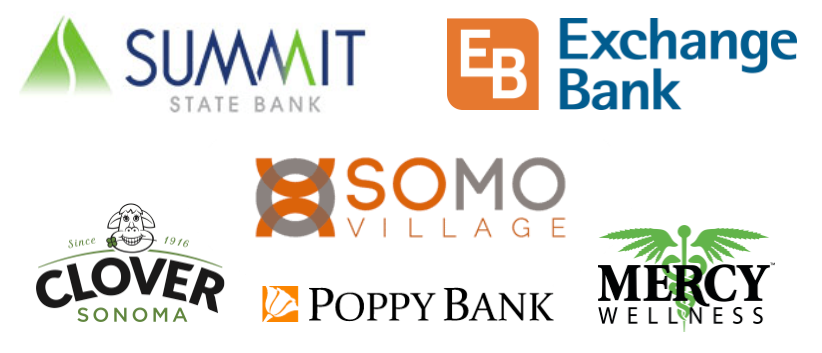 ---
---
Background and Additional Info:
WHY GO LOCAL?
GO LOCAL Sonoma County is a co-op marketing network for locally owned businesses throughout Sonoma County for 12 years running. Sustaining Technologies, LLC is the management company that works hand in hand with GO LOCAL to deliver smart, locally targeted media services.
Together, we've created a $10M brand built on a strong reputation for growing the number of local-loving fans throughout the county into the tens of thousands.
GO LOCAL/Sustaining Technologies has become THE source for all things local in Sonoma County:
Promoting local businesses and organizations
Educating consumers about the benefits of buying locally
Helping hundreds of businesses annually increase local sales through marketing and advertising
And, ultimately, getting more dollars recirculating into the local economy.
---
WHY CREATE A COMMUNITY FUNDING PROGRAM?
According to the Institute for Local Self-Reliance's report "Safeguarding Small Businesses During the Pandemic: 26 Strategies for Local Leaders", community-based financial relief programs:
are more efficient than state and federal support
are better tailored to the needs of local businesses to aid in regional economic recovery
strengthen collaborative partnerships that may extend into the long-term.
---
FUTURE SPONSORSHIP OPPORTUNITIES
This is a pilot program for 2020, and we envision repeating and expanding the program in 2021. For future annual programs beyond 2020, GO LOCAL seeks sponsor organizations to contribute matching funds that will support locally owned businesses for their marketing and advertising with GO LOCAL/Sustaining Technologies.
$1,000 - provides matching funds for 1-2 businesses
$5,000 - provides matching funds for 5-10 businesses
$10,000 - provides matching funds for 10-20 businesses
$25,000 - provides matching funds for 25-50 businesses
View the 2020 sponsorship presentation

here.
Sponsors will have their logos featured in all promotions of the program, and in communications to participating businesses during the length of this program. Where possible, sponsors may also provide additional resources to be shared in other communications to participating businesses. Sponsors and participants will also be featured in our digital and print advertising throughout the program.
---
For inquiries, contact:
Janeen Murray
Director & Board President, GO LOCAL Sonoma County
Manager, Sustaining Technologies, LLC
707-888-6105 ext.2
j.murray@golocal.coop

Additional links:
About GO LOCAL
How GO LOCAL business membership works
Marketing Stimulus Program Overview & Menu