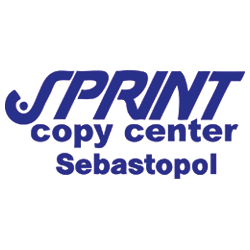 ---
Sprint Copy Center was opened in Sebastopol 27 years ago by Todd Huddleson's parents, Ron and Dian, who moved into the area looking for a need to fill. Todd and his brother and sister, Blake and Tarah, grew up in the shop, working there through high school, and continue to work together to keep it running efficiently even in today's economy.
"It's a true family business," Todd says. "We've been fortunate to build our team with friends and friends of friends, and people tend to stick around. Things seem to be turning around in the economy, but during tight times, everyone has taken a few less hours so that no one has had to be laid off. We've always been efficient. There's very little waste from energy usage to time management, but as a small business with few reserves and no bail-outs, we've become even better at running things fast and lean."
When I asked Todd what made Sprint Copy Center of Sebastopol distinctive, he answered, "Professionalism. Integrity. We stand behind our work. We treat people with respect and fairness, something they won't get online or at a big box store." He also mentioned that they print as many projects as possible on 100% post-consumer recycled stock.
Todd supports GoLocal, because "as a company, we've always lived by the principle of shopping locally, eating at local restaurants, supporting our local hardware store . . . GoLocal directly reflects our values."