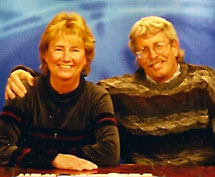 ---
John and Marilyn Goehring, former schoolteachers, opened their first store in 1977 after their first child was born because they found toy choices lacking in the area. Now new grandparents, they love seeing familiar faces from when they first started as former customers come back to shop for their own grandchildren.
Both Marilyn and John – and now the next generation, Jon and Cristi – stress their philosophy of providing top quality, educational and creative play products that stimulate the child's development. Their diverse product line offers toys and games created by smaller manufacturers from around the world who can't manufacture the quantities needed to stock chain stores' shelves.
Marilyn and John are thrilled to be participating in the American Specialty Toy Retailing Association's (ASTRA) 2009 Best Toys For Kids List. These specially selected playthings are fun and at the same time help children explore and grow. Toys are selected for being engaging, unique, open ended, fun and safe.
These award-winning toys are well-made and of enduring interest, so they last longer than many faddish mass-produced toys. Less likely to end up broken or discarded, these enduring playthings provide not only a better value to Toyworks customers, they are also better for our environment and our planet.
"Our goal has always been to provide choices for parents," Marilyn explained. "That and the personal service we offer our customers has led to our success. We consider our customers a vital part of The Toyworks family and listen to them as they provide us with the feedback we use in buying."
Because of the cost of real estate, many toy stores are going to smaller footprint retail space, with floor to ceiling product display. Marilyn explains, "one of our key ingredients is keeping low fixtures so parents can see their children as they shop and always having play areas throughout the stores so children have a place to entertain themselves and not be frustrated."
They have also recently added Toyworks-Takeout, where customers can call ahead to get assistance choosing a gift, or simply order one that they know they want. There is a reserved parking place when they arrive, and the gift will be wrapped and ready to go.
Since the inception of the North Bay Bohemian's Boho Awards, The Toyworks has been voted by readers as the best toy store in Sonoma County each of the 12 years. So chances are, if you have a child in your life, you've been to this venerable Sonoma County retailer. Thanks for helping to keep our community vibrant with choices and selection!
And if you haven't been in lately, please do stop by one of the two stores – on College Ave. or on Bodega Hwy. in downtown Sebastopol and say "hello" to John, Marilyn, Jon, and Cristi! They've been working hard to get stocked with all kinds of gifts and can't wait to serve you.