---
These GO LOCAL members were recipients of matching marketing and advertising funds through the 2020 Local Business Recovery Fund.
Read their testimonials: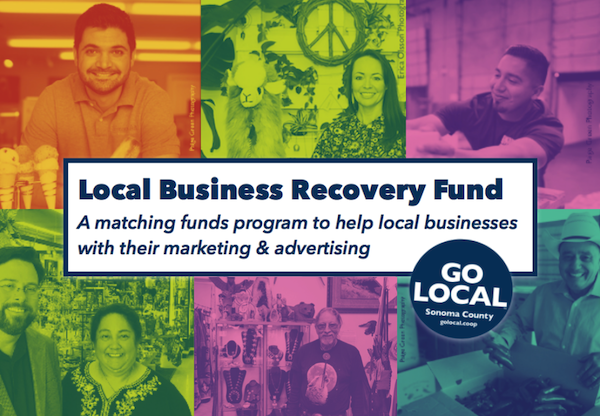 Our bakery in Sebastopol, Patisserie Angelica, has been greatly affected by the Covid-19 pandemic. Primarily due to the fact that our space is too small to allow for in-person dining and gatherings were shut down and we were unable to produce wedding cakes. We applied for the Local Business Recovery funding to be able to use the matching funds for marketing and communication to let customers know that we were open for take out, with safety precautions in place. The added marketing funds have helped increase awareness and new customers. Thank you for including Patisserie Angelica in the Local Business Recovery Fund!
Jennifer Lynn Bice, Co-Owner 2020, Patisserie Angelica
---
Not Yer Momma's Granola had to halt all in-person events when COVID hit, which accounted for a significant portion of our overall sales.
We applied to the Local Business Recovery Fund because we are facing financial hardships due to the pandemic and need some help getting the word out about our products.
How our business benefited by having your marketing/advertising buy doubled with these matching funds? Advertising is a critical component of any business. Because we are a small, local business, I like to advertise with GO LOCAL so folks in the area are aware that our company is still around. It's been a tough year, so getting our name out there is especially important now more than ever. The matching of funds essentially gave Not Yer Momma's Granola double the reach! We are so grateful for this opportunity and the unwavering support of the local community. We truly could not survive without the continued support from folks committed to buying local and helping local businesses stay afloat. Thank you to GO LOCAL and the community members who helped to build the sponsorship that has helped so many of us during these difficult times.
Myra Hallman, Owner, Not Yer Momma's Granola
---
Kindred Fair Trade suffered dramatic revenue losses due to the COVID pandemic in 2020. We were closed for three months, lost sales from tourism and downtown workers moving to remote work, and experienced a huge reduction in foot traffic due to downtown restaurants being closed or having limited serving ability. All this was in addition to the many, many community members who rightly chose to shelter-in-place and not venture out.
We applied for the Local Business Recovery Fund to enable us to do marketing while many of our other expenses were cut or deferred. It was critical to keep top of mind for our customers and promote online shopping, especially during the holidays.
The matching funds enabled us to double our reach and truly contributed to better sales in December. Thank you so much for supporting this program. It's one of the reasons we are going to survive such a tough year. Thanks Janeen!
Julie Montgomery, Owner, Kindred Fair Trade
---
I have owned Fishetarian Fish Market since 2012. It is a casual style eatery and fish market. The business was thriving and growing annually and then Covid hit. Since March of 2020, I have been pouring time, energy, and of course lots of money into our "new operations" at Fishetarian. In March, we closed up shop for over 4 weeks. While trying to grasp the new responsibilities of distance learning with my 8-year-old son by day… I stayed up until 1am -3am nightly for many weeks to work on our un-finished website. During that time, I was able to complete and launch our new online web-store and started selling "Seafood Boxes" to our customers. For example, I created meal boxes to "make your own cioppino", or "make your own fish tacos!" They were a big hit and our local community in Bodega Bay showed a lot of love and support, I built over 300 boxes that month. People drove from all over the Mendocino and Sonoma county coast to pick up a box curbside! After launching the new seafood box program, I went to work on creating an online menu, a new plexi-glass-curbside ordering station, a curbside pick up station, designated curbside pick-up areas, expanding our outdoor eating areas, etc. I also started shipping seafood, merchandise and other locally made goodies nationwide via my new online web-store. We reopened the shop in April and despite being closed for a month+ we were able to create a buzz (social media, road signs, etc.) and get folks back to the shop. The customers were very supportive and cooperated with our new systems. The online ordering was very problematic but eventually we got it down. Many commended us on our strong efforts to "think outside the box" and re-create ourselves during a time of crisis. Our employees were relieved to be able to come back to work and we granted our team members hourly raises now that they were working under the new "front line" conditions, wearing masks, dealing with the public, etc.
Finally, we purchased an outdoor eating tent, outdoor refrigeration, an outdoor grill, etc. Completing the transformation from an inside restaurant to an outdoor eatery! The next challenge was to make sure that our customers continued to visit us during the cold & windy winter months in Bodega Bay. We did not have much left in our budget for further advertising and yet we needed to let folks know that they could still visit us and stay covered during their dining experience. That is when I received a message from GO LOCAL offering a generous recovery fund!
We used the matching funds by putting up a Digital billboard on Hwy 1 North and have noticed increased numbers during a normally slow season. We also proudly advertised the billboard on our social media pages and credited GO LOCAL.
It has been a long journey of perseverance and I thank God for our blessings and our amazingly supportive community. Thank you so much GO LOCAL! :)
Dana Lucas, Owner, Fishetarian Fish Market
---
2020 was a difficult year for our business, customers and local community as a whole; having to quickly pivot and adapt to the new norm in a very uncertain time. GO LOCAL made advertising and reaching our local community much easier and more affordable through their business recovery fund. We were able to get more exposure and response than we would have normally for the same advertising budget; and that helped us experience a much better holiday season than anticipated. We really appreciate GO LOCAL and all of their support.
Micah Kradin, Olde Towne Jewelers & Filigree Estate Jewelers
---
Our shop was a 2020 GO LOCAL Recovery Fund recipient which enabled us to reach a much larger audience for a food drive we were having through print ads and radio. Had we not received the matching funds we certainly wouldn't have been able to promote it on the radio, nor reach as many people as we did. We wanted to reach as many people as possible in a short amount of time. And because of the matching funds we've done just that. We've been able to reach 10's of thousands people through the different "GO LOCAL" magazines that were and will be distributed and/or mailed to households alone. Plus the added bonus of a live promotional spot on local radio. Bottom line is none of this is or would be possible without the matching funds we received. We owe a huge thank you to the "Local Business Recovery Fund".
Terri Erickson, Your Automotive Excellence
---
I'm really grateful to be one of the businesses able to take advantage of GO LOCAL's Local Business Recovery Fund. I had to close down my yoga studio at the end of July, 2020, due to the COVID lockdown. I had to quickly transition to teaching online via Zoom, which definitely had a learning curve. With income down, I was really watching my spending. Now I'll be able to use these funds to increase my marketing and advertising in 2021!
Dana Davis, Sonoma Body Balance
---
The ads we were able to place thanks to the generous help of the marketing funds provided to match our ad spend were hands down the best advertising investment we made in 2020! After having to close down our small factory retail store in March, especially the ad in the Shop Local insert (Holiday Direct Mail Magazine) gave us great exposure and brought numerous new customers to our store when we reopened in November. Many customers walked in with the shop local ad in hand excited to have learned about us and our upcycled fire hose products. Thanks again GO LOCAL for making things like this happen!
Steffen Kuehr, Sonoma USA and TekTailor
---
I am pleased to share that GO LOCAL is ethical and they care about my business, Cheryl Teach Music. I find them to be helpful, creative and kind in their endeavors to share and promote my music school year round. CTM was fortunate to be one of the recipients of a funds matching grant for Local Business Recovery Funds that has made a dramatic impact on the current health and state of my business. I have had my Brick and Mortar Business Location for over 52 years and with the Covid-19 Pandemic forced closure of my business I immediately learned how to use an online platform for teaching my students music and for continuing their music and instrumental studies. I jumped right in faced with growing a new venue for my students and families that was foreign to us all.
GO LOCAL and the matching Local Business Recovery Funds Grant assisted me in my new journey and adventure in the rebuilding of my business online. I applied because I was dramatically impacted by the abrupt closure of my business with zero income until who knew when. It clearly was imperative that I needed to change course, seek assistance while immediately sharing with my then current students and families the ongoing benefits of continuing their music studies online versus not at all.
As a result of being one of the fortunate recipients of the Matching Recovery Funds my first time online business Cheryl Teach Music is now once again thriving and covering my overhead. I especially noticed a direct correlation from the Holiday ads and the increase in new students during the Holidays. Being a self-employed business woman in her mid sixties, a music instructor and educator, a one woman show and the household breadwinner, certainly is all very rewarding as much as it is a bounty of unending work and time. Many thanks and kudos to GO LOCAL and their wonderful program for Matching Recovery Funds for Local Businesses. I was greatly aided in making it through the most challenging time my business has so far endured. I am grateful. Thank you.
Cheryl Franklin, Owner, Cheryl Teach Music
---
Learn about the 2021 Local Business Recovery Fund here.