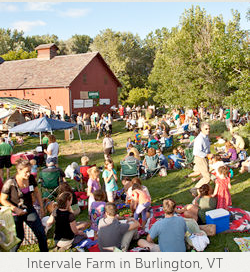 ---
This is the way to do it
This in from Burlington, Vermont and Bruce Seifer who co-authored the book Sustainable Communities: Creating a Durable Local Economy. Bruce has been a local leader in Burlington economic development. Here's his take on the success factors needed to strengthen local economics:
beginning with a data-driven understanding of what local needs are most important to meet
creating a clear, long-term vision of the developments efforts that will be required to meet these needs
electing leaders who can inform and inspire the populace
empowering and encouraging local citizens and businesses to participate in reaching the goals
making smart trade-offs (e.g. investing in efficiency before and/or instead of new infrastructure)
maintaining clear transparent 2-way (top-down & bottom-up) communication throughout
Results:
Burlington has the fourth lowest unemployment rate in the United States currently, out of 372 municipal regions.
Burlington had the lowest foreclosure rate of any city in the United States, which mean that people's net worth didn't shrink like many cities around the United States where people lost their house value.
---
And the survey says, "Buy Local Campaigns are Working"
In January 2014, the Institute for Local Self-Reliance and the Advocates for Independent Business coalition surveyed 2,602 independent business owners across the country.
This presentation presents the survey's key findings. It includes new data on the impact of "buy local" campaigns; a ranking of the biggest challenges facing small businesses, from online competitors to the difficulty of obtaining financing; and information on the public policy changes that small business owners believe would most help their businesses.
For a narration of these slides, please go here to listen and watch a webinar hosted by BALLE.
You can also download a report detailing the full findings of this year's survey here.
---
Understanding the Local Economic Multiplier Effect
Explaining the local economic multiplier effect or "local premium" is an essential component of effective "buy local" public education campaigns.
The multiplier effect is the boost to your local economy that results from locally-owned independent businesses, owners, and employees spending business revenue within the region. Typically, local independent businesses recirculate a much greater percentage of sales locally compared to absentee-owned businesses (or most locally-owned franchises*).
To get the nitty gritty details visit this article on the AMIBA website.