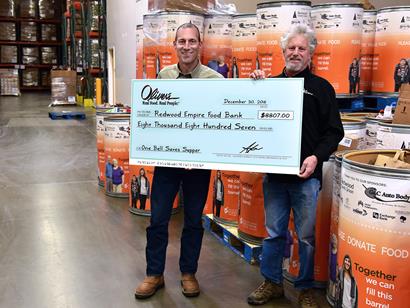 ---
January 6, 2017, Santa Rosa, CA -- Oliver's Market, Sonoma County's locally owned and operated grocer, has very generous customers. During the holiday season, Oliver's partnered with Redwood Empire Food Bank to offer holiday bell necklaces for sale at the check stands for one dollar each. The "One Bell Saves Supper" campaign informed customers that with every purchase, Redwood Empire Food Bank could provide two meals for Sonoma County's residents facing hunger.
Oliver's Market provided the bells for the program, and the customers purchased them generously, resulting in the sale of 8,807 bells and an $8,807.00 check for Redwood Empire Food Bank.
"We are grateful to our customers for their support of the Redwood Empire Food Bank," said Oliver's Market Owner and President Steve Maass. "One dollar at a time, they created this donation that we are glad to donate as a result of their generosity. The Redwood Empire Food Bank serves so many people in our community, with demand growing every day. As a Board member, I know how much they appreciate this donation."
"We are deeply grateful to have the continued support of Oliver's Market and their generous shoppers who helped save supper and bring hope to the tables of our neighbors experiencing hunger this winter. One bell at a time, the Oliver's community joined together to help feed 82,000 children, seniors, families and individuals in Sonoma County, and as a direct result of their generosity, the REFB will be able to provide 17,614 nourishing meals to those in need in our community," said David Goodman, Chief Executive Officer of the Redwood Empire Food Bank.
---
About the Redwood Empire Food Bank:
The Redwood Empire Food Bank (REFB) is the largest hunger-relief organization serving north coastal California from Sonoma County to the Oregon border. Since 1987, the REFB has provided food and nourishment to those facing hunger, currently serving 82,000 children, families and seniors in Sonoma County, while striving to end hunger in our community. The REFB collaborates with local and regional partners to obtain and distribute 15+ million pounds of food annually, the equivalent of more than 34,000 meals every day. Through more than 200 of their own direct service distributions and partnerships with 177 other hunger-relief organizations, they form a network of over 450 weekly and monthly distribution sites serving low-income residents in Sonoma, Lake, Del Norte, Mendocino and Humboldt counties. Visit www.refb.org or call 707-523-7900 to learn more.
---

About Oliver's Market
Established in 1988, Oliver's Market is a locally owned and operated grocer serving Sonoma County, California from four locations in Santa Rosa (2), Cotati and Windsor. Oliver's Markets strive to offer customers the finest selection of natural, conventional, and specialty products. This mission begins with a commitment to support the community through hundreds of local partners including farmers and producers of food, beverage, and wellness products. Oliver's carries over 6,000 locally produced products, which account for 26% of sales annually. A member of the Sonoma County GoLocal Cooperative, Oliver's received "Green Business Certification" from the Sonoma County Green Business Program (2011) and a "Best Practice Award" from the Business Environment Alliance (2007). It was named "Best Grocery Store" by the North Bay Bohemian (2000-2016) and won the "Outstanding Retailers Award" in 2005 and 2013 by the Specialty Food Association. In 2015 and 2016 Oliver's was chosen for "Best Local Produce" in the Press Democrat's "Best of Sonoma County" awards program. In 2016, Oliver's was named one of the "Best Places to Work in the North Bay" by North Bay Business Journal, and was the featured Store of the Month in the December 2016 issue of Progressive Grocer Independent magazine. Additionally, Oliver's earned the 2016 Progressive Grocer Outstanding Independent Award in the multi-store category. Learn more at www.oliversmarket.com.