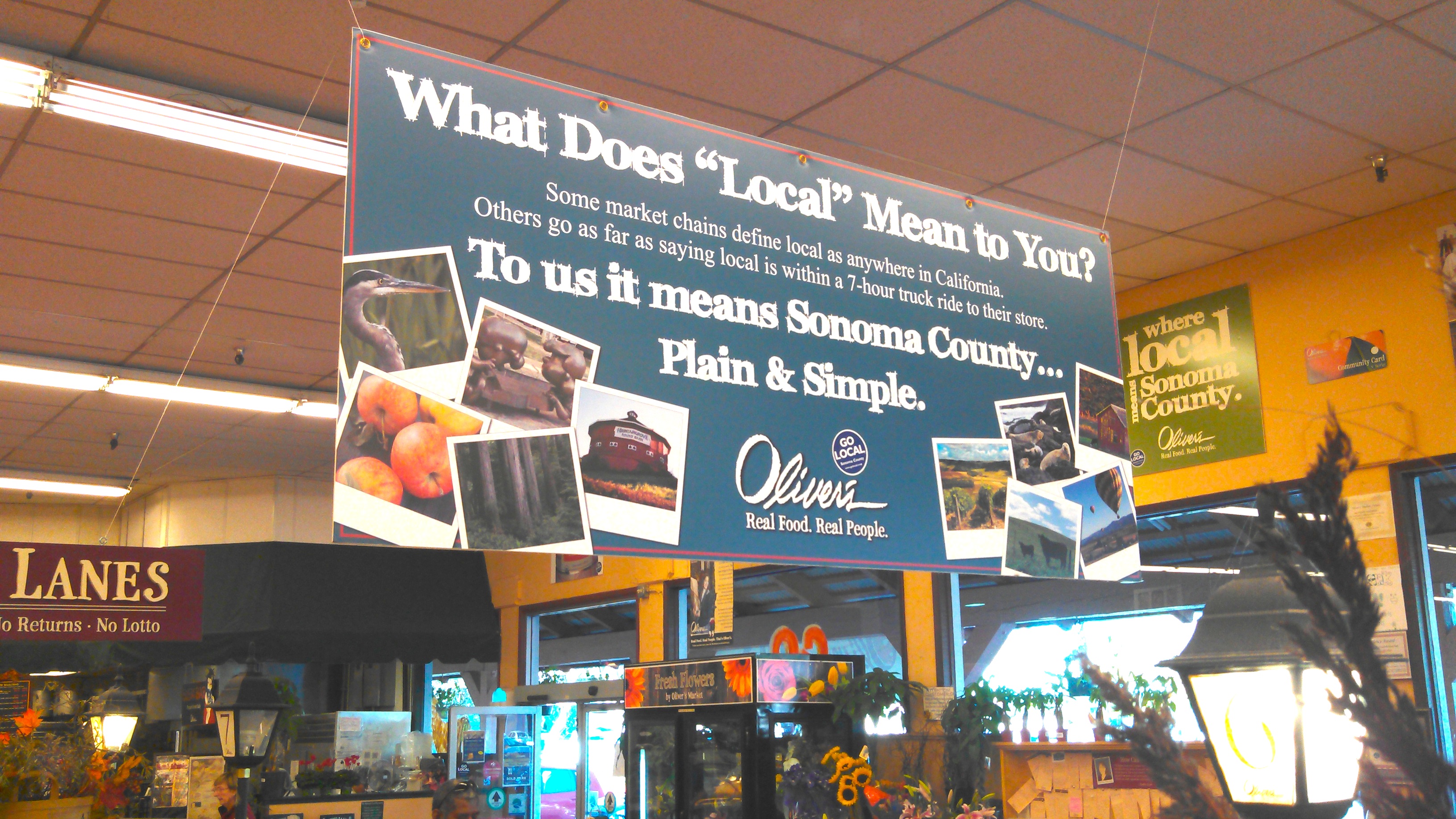 ---
Oliver's Markets has released the results of an updated report exploring the economic value of shopping locally. Both the latest report and the original 2011 report were conducted by Dr. Robert Eyler, business consultant and Professor of Economics at Sonoma State University.
The results of Going Local as a Retailer: Oliver's Market 2016 include the following findings:
When a consumer buys a locally produced product from Oliver's, the financial benefit to Sonoma County is 2 ½ times greater than when purchasing a national brand from a chain store.

When a consumer buys a locally produced product from Oliver's, the local taxes generated by that sale is almost three times greater than purchasing a national brand from a chain store.

For every $1 Oliver's spends on payroll, Oliver's local focus supports another 81 cents in payroll spending at the Sonoma County producers supported by the company.
"We believe as a locally owned and operated business supporting other local businesses that we contribute a larger amount of dollars to our community, but having this measurement and assessment makes the benefits more tangible, both to us and our customers," said Tom Scott, CEO, Oliver's Markets. "Not only are Sonoma County products generally outstanding in quality, but when we all see the benefit to buying them and supporting them, the importance is hard to ignore. It is also gratifying to see how the ripple made by these choices has grown in impact since the original study."
The report concludes:
"Going local makes a powerful, economic difference than buying from non-local firms on Sonoma County. Oliver's current operations provide over $184.3 million, $19.3 million in state and local taxes, and create or sustain over 711.5 jobs for Sonoma County. If a non-local grocer hires and buys locally in the same capacity, Sonoma County loses over $6.5 million of the broader impacts because the profits go away from Sonoma County; if the non-local grocer also sources no goods locally, Sonoma County loses over $57.6 million annually."
---
About Oliver's Markets
Established in 1988, Oliver's Markets is a locally owned and operated grocer serving Sonoma County, California from three locations in Santa Rosa and Cotati, and a fourth Windsor location opening in 2016. Oliver's Markets strive to offer the finest selection of natural, conventional, and specialty products. This mission begins with a commitment to support the community through hundreds of local partners including farmers and producers of food, beverage, and wellness products. Oliver's carries over 6,000 locally produced products, which account for 26% of sales annually. A member of the Sonoma County GoLocal Cooperative, Oliver's received "Green Business Certification" from the Sonoma County Green Business Program (2011) and a "Best Practice Award" from the Business Environment Alliance (2007). It was named "Best Grocery Store" by the North Bay Bohemian (2000-2014) and "Outstanding Retailers of 2013" by the Specialty Food Association. Learn more at www.oliversmarket.com.