RCU's Employee Giving Campain Conrtibutes Over $105,000 to Local United Way Chapter
Oct. 24, 2016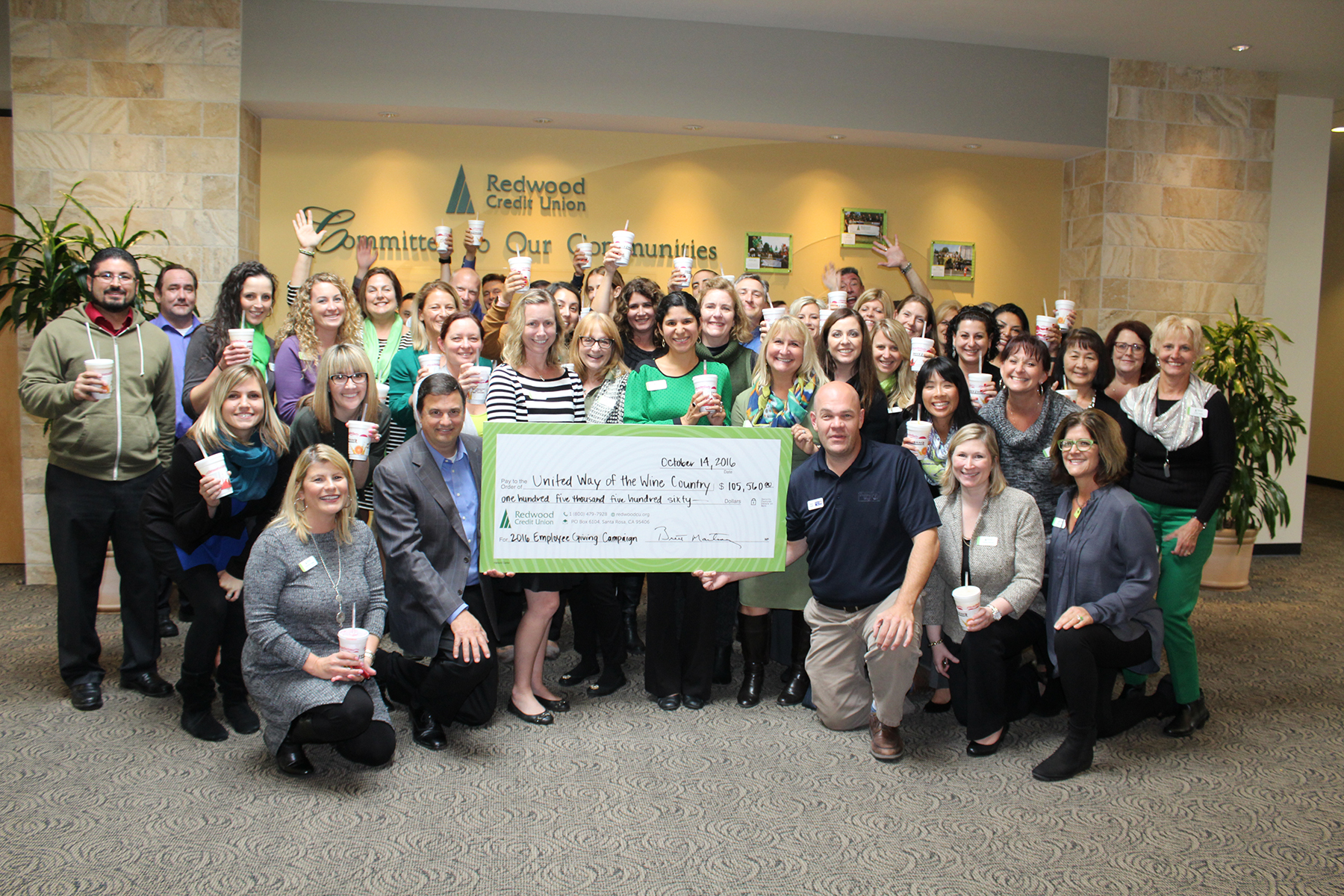 Santa Rosa, Calif. – Redwood Credit Union (RCU) completed its 2016 United Way workplace giving campaign, raising a total of $105,560 to support United Way of the Wine Country. They exceeded this year's campaign goal of $105,000, as well as last year's campaign total of $102,866.
The Credit Union offered several unique incentives to encourage employees to contribute, including raffle prizes, casual days, smoothie parties, and more.
"Supporting local nonprofit programs is a vital part of RCU's culture, and our employees are passionate about giving back to our communities," says Meg Cadiz, assistant vice president of community programs. "The annual workplace giving campaign allows employees the flexibility of designating their contribution to a specific nonprofit of their choice, or supporting the many great programs our local United Way provides, such as Schools of Hope tutoring and the 2-1-1 resource help line."
An active supporter of United Way for nearly 20 years, RCU has raised over $1M for the organization to date. In addition to United Way, RCU supports a wide variety of nonprofits and community efforts throughout the year, including local volunteer centers, and the Sonoma, Marin, and Mendocino County Human Races.
About Redwood Credit Union
Founded in 1950, Redwood Credit Union is a full-service financial institution providing personal and business banking to consumers and businesses in the North Bay and San Francisco. RCU offers complete financial services including checking and savings accounts, auto and home loans, credit cards, online and mobile banking, business services, commercial and SBA lending, wealth management and investment services, and more. The Credit Union also offers insurance and discount auto sales through their wholly-owned subsidiary. RCU currently has $3 billion in assets and serves over 266,000 Members with full-service branches from San Francisco to Ukiah, more than 30,000 fee-free network ATMs nationwide and convenient, free online and mobile banking. For more information, call 1 (800) 479-7928, visit www.redwoodcu.org, or follow RCU on Facebook at facebook.com/redwoodcu and Twitter at @Redwoodcu for news and updates.