Jan. 1, 2013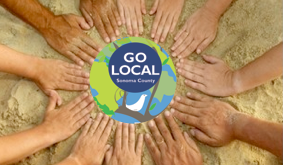 Rewards Card Launched January 2011 and Has Grown Rapidly for the Past Two Years
When we first experimented with Rewards Card in 2010 we felt optimistic that everyone would immediately grasp the concept of a local currency and mutual credit clearing. After all, who doesn't support and cheer for the locally owned businesses? And who isn't weary of an economic and monetary system on the skids?
We were reminded of the hurdles that idealistic visions encounter in the course of finding their way to a substantial market. We've had our devotees though. Local businesses like Community Market, Guayaki Yerba Mate, Sonoma Chocolatiers and Osmosis Day Spa Sanctuary weathered the experiment of 2010 and helped us introduce the concept. Our loyal cardholders who have patiently waited while we recruited new businesses are dear to us too. These early participants buoyed our spirits and encouraged us to find solutions.
Free Cards for Everyone!
In early 2011 we realized that we couldn't attract enough cardholders fast enough by charging for the cards and membership to GoLocal. In the spring we began providing the cards for free through our electronic merchants. They gave them to their customers. That started to make a huge difference.
In May we followed with a joint effort partnering with the Bohemian to produce and distribute a pocket guide of Rewards Card merchants and their reward offers. We also stepped up our social media promotion and point-of-sale marketing. As illustrated in the chart, those actions made a significant impact on sales increases. In the holiday season we published a second guide and ran 3,000 TV spots on twelve networks for the greater Santa Rosa area.
Bigger Things to Come in July 2012
UPDATE: On July 2, 2012 we activated nearly 5,000 debit cards to function as rewards cards bringing total cardholders to over 11,000.
This July we'll add thousands of new cardholders through a pilot program with Community First Credit Union (photo to the left shows CFCU branch lobby and a GoLocal rewards sign) that enables their debit cards to function as a GoLocal Rewards Card.
This pilot will be the first step in scaling up the GoLocal Rewards Card program. As the system expands, it is planned for the debit cards of other locally based credit unions and community banks to be integrated as well.
"Our Members will be introduced to local merchants where they can save on purchases while supporting the Sonoma County economy," said Todd Sheffield, CEO of Community First. "As a bonus, our members won't need to carry an additional card as they can use their existing debit card for regular and rewards purposes," he added.
We're happy to report that sales are continuing to climb as cardholders are experiencing the value of supporting local businesses. This July 2012 saw sales of $61,300 compared with July 2011 of just under $24,000.
We also expect to add many electronic merchants over the next six months. Currently there over 140 rewards merchants, including Show the Card and Electronic offers.
Sales Chart for 2011 and 2012