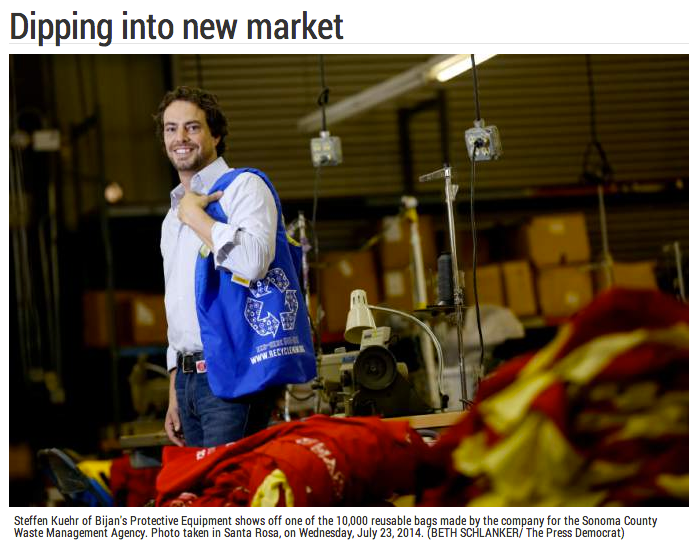 ---
Two collaborating members of GO LOCAL, Bijan's Protective Equipment and Sonoma County Waste Management Agency, were covered in this excerpt of a Press Democrat story published July 23, 2014.
***
A Santa Rosa manufacturer is testing a new business market thanks in large part to Sonoma County's ban on single-use plastic bags as well as a push by some residents to keep jobs in the United States.
Bijan's Protective Equipment is making 10,000 reusable shopping bags for the Sonoma County Waste Management Agency, which approved the plastic-bag ban earlier this year. The bags will be available through an outreach program that kicks off today at the Sonoma County Fair in the Grace Pavilion.
Under the ordinance, which takes effect Sept. 1, grocery and retail stores will not stock single-use plastic bags and must charge a minimum of 10 cents for each paper bag.
As part of the outreach, the waste management agency wanted to alert residents to the change by giving out reusable bags at public events. "We needed to do something that would catch people's attention," said Patrick Carter, a department analyst for the agency.
For the full story, continue reading here.