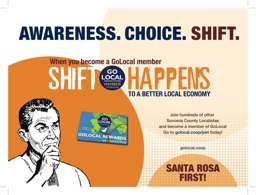 ---
"Never doubt that a small group of thoughtful, committed citizens can change the world. Indeed, it is the only thing that ever has." Margaret Mead
Special Feature: Community Market Natural Foods
---
Santa Rosa First TV Spots Airing November and December 2010
---
Awareness. Choice. Shift.
Awareness. Santa Rosa is home to many wonderful locally owned, independent businesses. Do you know which ones are locally owned? We bet you know quite a few. Think about this, when you have guests visit from other parts of the country and you want to show them around Santa Rosa, where do you take them to dine out or shop for unique gifts? Do you say to them, "Oh, we have this great WalMart store you just have to see, or we have a McDonalds and Starbucks"?
Chances are you take them to E.R. Sawyers Jewelers, Bistro 29, Mombo's Pizza, Soco Coffee, Kindred Fair Trade Handicrafts, Smothers Auto Parts, Oliver's, Community Market or the hundreds of other locally owned business that create the true and unique character of Santa Rosa and Sonoma County. (See a complete directory of them on this site). These are the businesses that reflect the personality of our community and that give you your "bragging rights" for how wonderful it is here. The vineyards and wine making are world renowned, and you most likely share those as well.
Choice. What does Santa Rosa First really mean? It means you have a choice where you shop or dine. Think about those choices you make every day. When you can, choose local first.
Billions of advertising dollars have been spent to convince you that the big chain stores and big box stores ought to be your first choice. Most of us are influenced by advertising of that magnitude whether we realize it or not. Santa Rosa First ask you to think about the many advantages of choosing local first. Locally owned businesses provide more jobs, support more local non-profits and provide our local flavor, character and personality. And contrary to the ad messages, they provide better choices, convenience and goods and services at lower prices than the global competitors.
You may not always be in a position to choose local first, but let it at least be a conscious consideration. The times you do choose local first, you'll be richly rewarded and so will Santa Rosa and Sonoma County.
Shift. The shift to locally owned businesses for your spending choice pays off big time economically. It's simple. When you buy from locally owned businesses, $25 more out of each $100 you spend stays local.
Here's the breakdown for retail sales in Santa Rosa:
2010 estimated retail sales for Santa Rosa: $3 billion
If all retail expenditures were spent with locally owned businesses: $750 million more would recirculate here.
That's a significant amount that can be reinvested locally to start new businesses and create more jobs, and contribute to our community infrastructure. The path to these benefits starts with you and your shift to local first. You don't have to spend more, just buy local when you can. It adds up to a huge difference when everyone makes a local first choice.
How You Can Start Making a Difference by Choosing Local First
Know who the locally owned businesses are and visit them. GO LOCAL List for Sonoma County and the 'Related' box to the right shows Santa Rosa members.

Recommend your favorite local businesses to your friends and family.

Look for these signs (see below) around Santa Rosa and support GoLocal members.

Tell these members you appreciate what they do for us.