---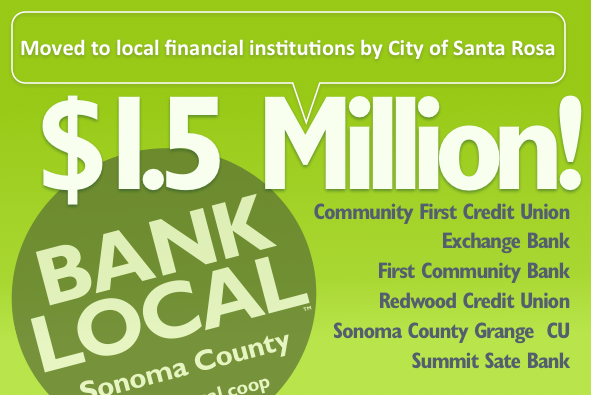 It's been a long day coming for Arvin Look, Santa Rosa's Treasury and Investment Financial Analyst. And for the Bank Local initiative started by GO LOCAL four years ago in an effort to shift more deposits and loans to locally owned financial institutions.
Arvin announced at the Tuesday City Council meeting that the city is moving $1.5 million in deposits ($250,000 each) to Community First Credit Union, Exchange Bank, First Community Bank, Redwood Credit Union, Sonoma County Grange Credit Union and Summit State Bank.
All of those institutions are part of Bank Local and have worked to bring excellent financial services to Sonoma County. Redwood Credit Union and Summit State Bank are top sponsors of GO LOCAL which helps to underwrite marketing programs for 338 business and non-profit organiztions countywide. Community First Credit Union has supported many efforts over the years to help locals understand the importance of choosing local first.
The City of Santa Rosa is also a member of GO LOCAL. This is one more example of them taking action to support the local independent business community and demonstrates their understanding of recirculating money locally. More money deposited in local banks means more money available for local lending and contributions.