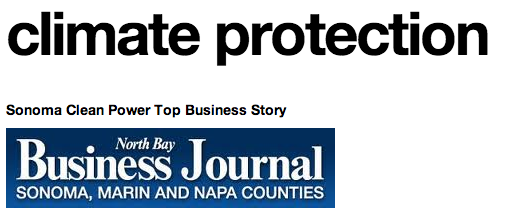 ---
The top business story of 2013 was Sonoma Clean Power, according to the North Bay Business Journal. Significant achievements for the game-changing entity include recruiting five cities to participate, seating the board, establishing two committees, hiring the CEO, and choosing an electric service provider.
Sonoma Clean Power will supply 60% more renewable energy than PG&E at slightly lower rates. Ten megawatts of the power at the start will come from renewable geothermal power from Calpine at the Geysers.
We expect Sonoma Clean Power will be the top story of 2014 as well, enrolling customers, introducing an enhanced net metering product for solar customers, offering an ambitious "EverGreen" 100% renewable energy product.
Another round of high-fives to all who helped make this happen. Climate Protection Campaign's last newsletter describes and recognizes key players and partners.