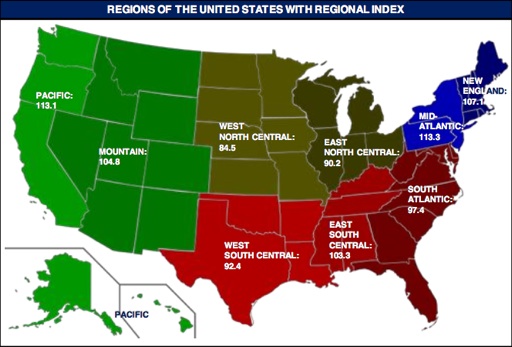 ---
Sonoma County Ranks High
First, a BIG shout out to American Booksellers Association and Civic Economics for underwriting this study. They have blessed us with numerous studies over the past decade that have helped local networks like GoLocal articulate the enormous economic benefits of supporting locally owned businesses.

Here are some highlights from the nationwide study of 363 metropolitan statistical areas (MSAs). It's named the Indie City Index 2011: A Measure of Independent Retail Vitality In Every American Metropolitan Area. You may download the full report below, which includes the methodology and analysis. While other studies by Civic Economics have demonstrated the economic multiplier inherent in buying from locally owned businesses in several US cities, the scope of this study encompasses all of the US.
---
In short, the study reveals the relative strength of locally owned businesses expressed by an index score for every MSA. The researchers estimated the retail market share for chain stores nationwide and for each MSA, with the assumption that the remaining share belonged to local and regional retailers. The national baseline index equals 100, and Sonoma County's index is 128.3. The highest index in the study is 147.7 (Ocean City, NJ) and the lowest is 28.6 (Kankalee-Bradley, IL). It's worth noting that automotive vehicle and fuel sales and supermarket/grocery sales were excluded from the study (reasons for this are included in the full report).

---
Sonoma County is Ranked:
Number 1 among MSAs with Populations 250,000 to 500,000

Number 14 among all 363 MSAs

Number 4 in the Pacific Region

Number 9 among the 36 Multi-category Top Performing MSAs
---

The ranking results for Sonoma County underscore the fertile ground for future progress given such a favorable starting point. It shows that the legacy of local first is deeply rooted in Sonoma County's culture and mindset. The opportunity to grow our local market share is nearing a tipping point of acceleration. Residents are making local choices increasingly every day. Our representatives and policy makers can be encouraged to foster favorable local investment by supporting locally owned businesses. Local business can form stronger bonds and relationships with one another.

This is not a time for complacency or resting on our laurels. The fact that we have a strong position of local retail market share makes Sonoma County an attractive target for large scale chain retailers. Given the state of the economy, and the fact that most growth will come from shifting market shares, it's important for us to look at the many ways that our locally owned enterprises can meet our local demand for goods and services. Our loyalty to and purchasing from local providers is our greatest opportunity to build community wealth and quality of life. Our local businesses contribute so much more to Sonoma County than sales reflected in statistical reports.
GO LOCAL is committed to growing the local market share. In a related report (click here to go the article on this site), communities with a local first campaign and network of locally owned businesses working together are more than twice as likely to increase the shift of market share from the large, non-local chains to local businesses. While there are many obvious flaws in our free market system, we have the power and freedom as local residents to choose where we spend our money and where to bank and invest it. That is our enormous power to reclaim our local economy and fashion it in a way that brings social and economic justice for all residents. It's ironic in a sense that a system so skewed to enrich a rapacious few (ahem, think Wall Street), would also create the very opportunity to turn the tables. Consumers (as we are so affectionately named) produce 73% of economic activity by our consumption. Simply choose those businesses and banks that don't rely on Wall Street.