---
The continuing financial crisis, most recently with European governments defaulting on their debt and another trillion dollar bailout package, has many of us wondering what happened to the good ol' days when the money we saved and invested was actually put to work productively in the economy - supporting main street rather than gambling on Wall Street. Many people are out of work or underemployed, and, to most of us, it feels like the only "recovery" we have seen is for Wall Street investors and executives receiving record bonuses.
As a community, we have the power to make a difference for ourselves. Using our economic ballot boxes, primarily where we shop and bank, we can reclaim our local economic power by going local first with our spending and saving decisions.
Bank Local
Banking local is of particular importance, as our local banks and credit unions are the engines that keep our local economy moving (Click here to learn why you should Bank Local). To help you find a local bank that is right for you, we have compiled the following research on Sonoma County banking using data from the Federal Deposit Insurance Corporation (FDIC) and National Credit Union Administration (NCUA). While there are many important criteria to evaluate when selecting a bank or credit union, this guide should point you in the right direction by identifying the local institutions serving our community.
Measuring Localness
At GoLocal, one of our main criteria for determining whether or not a business is local is who owns it. Businesses owned locally tend to spend more of their profits locally, and are able to make autonomous marketing and sourcing decisions that maintains the uniqueness of our community and allows them to participate in the shift.
Banks and credit unions are slightly different animals. While their ownership structure is important (credit unions, like GoLocal, are cooperatives and owned by the members), probably the best measure of their localness is where their deposits come from and where they make their loans. The following analysis uses publicly available deposit data to measure the market share of all the banks and credit unions operating in Sonoma County, and determines localness by comparing the percentage of institutions' total deposits that come from Sonoma County.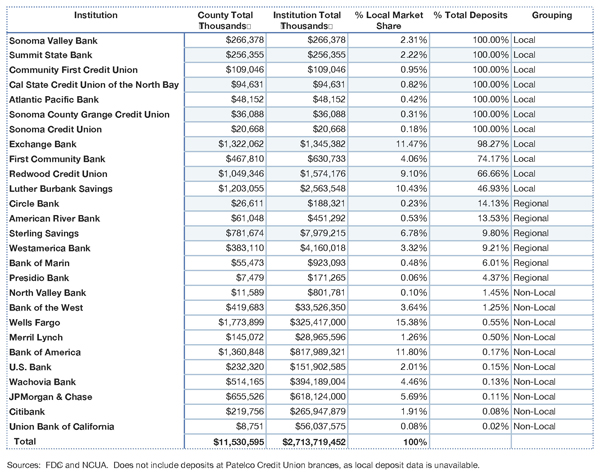 The Breakdown
As it turns out, banks and credit unions operating in Sonoma County stratified into three distinct tiers of localness. The "local" group is made up of 11 institutions that have 47%-100% of their deposits originating from Sonoma County, and together hold 42% of deposit market share. The major players in the local group are Exchange Bank, Redwood Credit Union and Luther Burbank Savings, which account for 31% of the county's deposit market share. Of the local big three, Exchange Bank is the most local with more than 98% of deposits in Sonoma County branches. (see chart below for more details)
The "regional" group consists of 6 institutions that have between 4% and 15% of their deposits from Sonoma County branches, and make up 11.4% of Sonoma County's total market share. The "non-local" banks each have less than 1.5% of their total deposits originating from Sonoma County branches, and together account for 46% of the county's deposit market share. The significant non-local players are Wells Fargo, Bank of America, Chase Bank and Wachovia Bank, which together hold 37% of the county's total deposit market share. (see chart below for more details)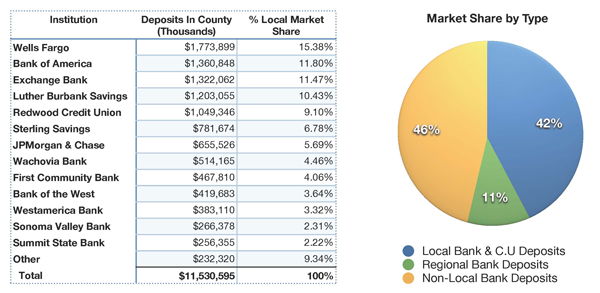 Make the Shift
Shifting just 10% of bank deposit market share from the "non-local" group to our local banks and credit unions would add significantly to the local lending pool - potentially to the tune of hundreds of millions of dollars. In addition, it has been shown that, on average, small banks and credit unions loan more to small local businesses, provide the same essential banking services as the big guys, and charge lower fees across the board (Check out this story to learn more). So if you are tired of trillion dollar bailouts and the Wall Street casino, make the shift and bank local. When we all come together and GoLocal with our spending and saving decisions, shift happens!