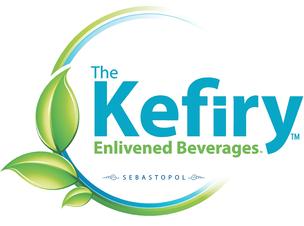 ---
Sonoma Enlivened Inc. aka The Kefiry debuted new products at the annual Sonoma County Fermentation Festival at the Petaluma Fairgrounds on Saturday, Sept. 2nd, 2017.
Sonoma Enlivened, Inc. co-owners Tom Boyd and Deana Dennard form the perfect husband and wife turned entrepreneur team as a mutual passion for wellness and healing serves as their relentless and enthusiastic drive to bring their healthy beverages and popsicles to Sonoma County and beyond. Deana has worked in the healing arts, specifically in nutrition and as an herbalist for over 20 years and Tom is a scientist with a background in water research. It was Tom Boyd's experience after returning home from the military that inspired his wellness path as he came back from the navy with irritable bowel syndrome and was able to heal himself with raw foods, nutrition and water. "After getting out of the military, I started my own business selling Think Smart bars. Then, I met Deana and ran a small scale startup pharmaceutical laboratory. That same level of purity and quality is something that transferred to my current business of Sonoma Enlivened Inc. We've spent a lot of time thinking about our formulas and their functions. We've designed and created the most special processes and want people to have access to something real with actual probiotics that go in your body in an alive state. We're thrilled to be certified organic by Oregon Tilth and are about to be the most lab tested beverage on earth as we plan on full disclosure and showing the public all the elements, minerals, etc. that go into our products. As a company, we are fully committed to being the trusted developer/manufacturer of probiotic beverages and products and as individuals; we aim to set the pace globally in the development of a live-cultured revolution".
Customers are fast becoming loyal and frequent. Deana Dennard attributes the countless accolades to their proprietary Ovubrew™ production process which has been perfected over the past 6 years. One local in particular (Mark S) says, "I love the Sonoma Enlivened flavors. I've been drinking kombucha for years for the probiotic benefit but I never cared for the vinegary tastes. The Sonoma Enlivened kefir water flavors are WAY better tasting than kombucha and they (Tom and Deana) are truly artists at bringing delicate herbal flavors into their drinks with just the right amount of carbonation too."
Loyal Kefiry enthusiast and customer Dr. Moses Goldberg, ND (at the Integrative Medical Center for Santa Rosa) claims, "As a Naturopathic Doctor, the foundation to my patient's health is to create an optimal digestive health protocol. A simple, nutritious and refreshing way to do this is through the unique and refreshing non-gaseous live culture beverages from The Kefiry. They will increase and diversify your probiotic immune system, boost your own production of digestive enzymes to help you absorb optimal nutrients and they taste great!"
---
ABOUT SONOMA ENLIVENED INC. AKA THE KEFIRY
Created by husband and wife team of Tom Boyd and Deana Dennard to serve an alternative to sodas and energy drinks, Enlivened Inc.'s beverages and popsicles utilize only real organic herbals,botanicals and spices without additives or flavorings and always fermented to perfection. Brews were specially formulated to meet core customers' special dietary needs and are always hand crafted, 100% organic, probiotic, alcohol-free, on-dairy, gluten-free, vegan and low in calories and sugar. Enlivened beverages product line will be launched into the North Bay marketplace through Feed Sonoma. The Kefiry is a storefront located in Sebastopol which offers tastings of Enlivened Inc.'s beverages and popsicles. For more information about Sonoma Enlivened Inc. aka The Kefiry, please email thekefiry@gmail.com or visit www.thekefiry.com .