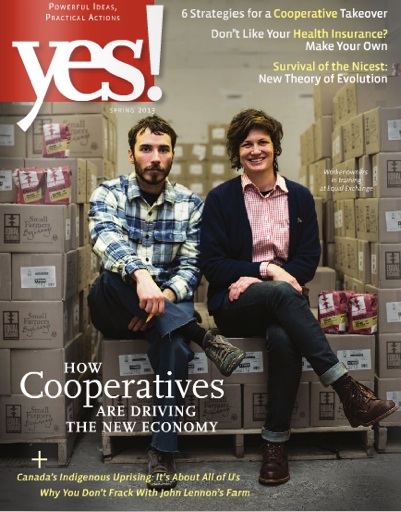 ---
Co-ops—just like people—can get more done together than anyone can do alone.
The March 2013 issue of Yes! Magazine focuses on co-ops, how they are created, and how they contribute to a robust, just, socially adaptive local economy. In the words of Sarah van Gelder, the lead article author,
"Co-ops—just like people—can get more done together than anyone can do alone. The good news is that co-ops come in many forms and are more common than you might imagine. They are owned by workers, residents, consumers, farmers, craftspeople, the community, or any combination. What they have in common is that they circulate the benefits back to their member-owners, and these benefits ripple out to the broader community.... Cooperative forms of ownership allow the well-being of people, the planet, and future generations to take priority over profits for shareholders and executives."
It's important to remember that GO LOCAL is itself a cooperative. We're working hard to increase public knowledge of cooperative ownership potential among the general public and in particular among local merchants. Indeed, the GO LOCAL Buck offered by many of GL's member businesses to customers as a full-value credit rebate is itself the epitome of "cooperative money": democratically owned, responsibly issued, transparent, and -- unlike the federal dollar -- linked inextricably to concrete value in the real economy.
Our GO LOCAL Cooperative is very much the kind of enterprise that Yes! Magazine celebrates and encourages. Read their whole article here.