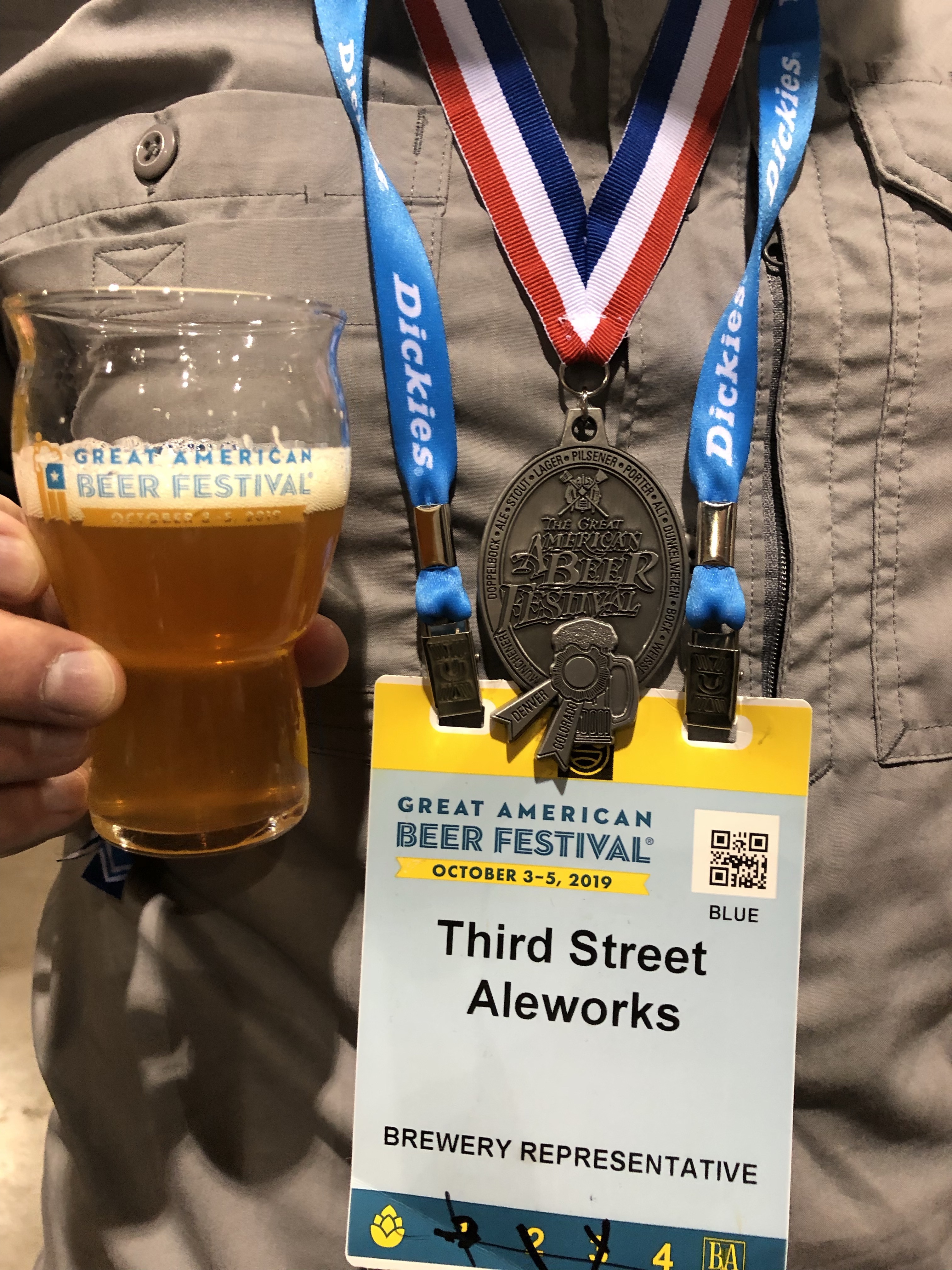 ---
Third Street Aleworks was awarded a silver medal at the 2019 Great American Beer Festival (GABF) competition, the world's largest commercial beer competition. The GABF, presented by the Brewers Association, recognizes the most outstanding beers produced in the United States. Gold, silver and bronze medals were awarded on October 5 at the Colorado Convention Center in Denver, in 107 beer categories covering 174 different beer styles (including all subcategories), establishing the best examples of each style in the country.
Third Street Aleworks was recognized in the English or International Pale Ale beer-style category for its Annadel Pale Ale, a well-balanced English-style Pale Ale named after Trione-Annadel State Park on the eastern edge of Santa Rosa. The beer pours a copper color with the aroma of orange marmalade and a malty, caramel taste followed by a dry finish. It is currently available on draft and in 16oz cans at the pub and from retailers throughout Sonoma County. Third Street Aleworks is a 14-barrel brewpub located in Santa Rosa that prides itself on being a community hub for great beer, food, and a welcoming environment for 23 years. Third Street Aleworks brews a wide variety of food friendly beers ranging from classic styles like the Annadel Pale Ale to modern styles like Hazy IPAs, Brut IPAs, and Kettle Sours.
" It's always an honor to be recognized by your peers and represent the amazing beer scene we have here in Sonoma County. This medal was very special to bring back to Santa Rosa since the last time we won a medal for Annadel at GABF was the day before the fires in 2017" said Tyler Laverty, Master Brewer at Third Street Aleworks.
In the 33rd edition of the GABF competition, 9,497 entries were submitted to the general competition, along with 113 Pro-Am and 70 Collaboration entries. The beer was made by 2,295 breweries from across the nation, with entries from all 50 states plus Washington, D.C., Puerto Rico and the Virgin Islands. Judging took place over the course of three days, with an international panel of 322 judges from 18 countries.
"This year's GABF competition was the largest and most competitive to date," said Chris Swersey, competition manager, Great American Beer Festival. "The beers and talent were as impressive as ever, and I'm thrilled to congratulate this year's winners for their achievements in brewing."
For more GABF competition information, including the 2019 winners list and photos, visit GreatAmericanBeerFestival.com.