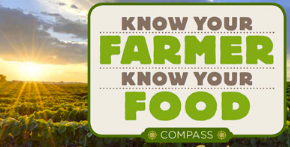 ---
This is an exciting time for farmers and ranchers of all types and sizes as agriculture is a bright spot in the American economy. In 2011, agricultural exports hit a record high and producers saw their best incomes in nearly 40 years. At the same time -- with the help of the United States Department of Agriculture (USDA) -- we've seen important growth in markets for local and regional food, a multi-billion dollar industry that complements traditional agricultural production.
Two and a half years ago, I launched USDA's Know Your Farmer, Know Your Food (KYF) initiative to help support this important trend in agriculture. It's the public face of our commitment to help agricultural operations of all sizes take advantage of new opportunities, meet the growing demand for local and regional food and succeed in America's diverse marketplace.
Since then, farmers across the country have built nearly 4,500 hoop houses with support from USDA. These structures function as a sort of green house, helping growers extend their growing seasons to sell produce during the colder months.
We've also supported the growth of farmers markets. Today there are more than 7,100 around the country where farmers and ranchers are selling locally to improve their incomes -- that is a more than 50% increase over the past 3 years. To help producers serve larger institutional customers like schools and hospitals, USDA has helped fund new regional infrastructure like cold storage warehouses, commercial kitchens and local slaughter facilities.
Know Your Farmer, Know Your Food is also having an impact on the future of farming and agriculture. Our support for local and regional food is helping recruit and retain a new generation of farmers and ranchers. Many young and beginning farmers start out in local markets. Some stay there, and some scale up.
Now we are unveiling the Know Your Farmer, Know Your Food Compass, an interactive web-based document and map that highlights USDA support for local and regional food projects. It looks at case studies of farmers, ranchers, business and communities using this new segment of agriculture to create jobs and economic growth.
Local and regional food systems are about opportunity. The opportunity for our country's farmers, ranchers and growers to meet growing customer demand and to expand access to healthy foods. Opportunities for entrepreneurs to start small businesses such as food processors, distributors, food hubs and markets.
The KYF Compass shares the stories -- with narrative, an interactive map, photos and video -- of Americans that are innovating and taking advantage of these opportunities to create jobs and chart a stronger future for American agriculture. It is a tool to help navigate USDA resources that support local and regional food systems. And it is a jumping off point so you can join the national conversation about where our food comes from.
In the years to come we'll continue to see these new local and regional markets expand, along with agricultural businesses that serve them. This segment of American agriculture will play an important role in revitalizing rural communities: spurring job growth, keeping more wealth in rural communities and more farmers on their land.
The KYF Compass reminds us that today's agriculture industry is more diverse and more vibrant than ever. USDA is committed to keeping pace with the needs and progress of American agriculture by supporting new markets and movements that will keep farmers profitable and help create middle class jobs across the country.