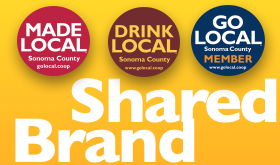 ---
How GO LOCAL Members Work Together to Spread the Word About Local First
GO LOCAL's marketing goal is to shift purchasing of goods and services from non-local to local businesses. The greater our brand value, the greater our influence to shift behavior. We don't ask people to buy more of anything. We do ask that they make a conscious choice—to choose local first.
As a GO LOCAL business member, you're a part of a cooperative. Members are co-owners and "share" the GO LOCAL brand along with all the other owners. GO LOCAL doesn't exist independent of its member owners. Read this article to learn more, "What it means to be a GO LOCAL Member".
Our shared brand consists of:
A logo that is easily recognizable
A message that is easily understood
Members that use it
We create brand value when we use it in our respective marketing, therefore creating the "shared branding" experience.
---
This video shows GO LOCAL members creatively using the brandmark to spread the Local First message in Sonoma County.
The value of our shared brand is important, because it represents our marketing power in Sonoma County to create a shift in purchasing habits from non-local to local. As a member, you both contribute to that value and receive the benefits of the aggregated contribution of all members.
---
How We Created a Shared Brand Worth $10 Million in Commercial Media Value
Commercial media value equivalent of a brand derives from the sum of its use and consequent exposure to a population. Every time someone sees our brand, that's an impression. If they see it ten times a day, then that's ten impressions. If 1,000 people see it ten times each, that's 10,000 impressions, and so on. For example, when Kindred Fair Trade Gifts on 4th Street displays GO LOCAL signs in their store (as they do), and if 100 customers a day are exposed to those signs, they generate 100 impressions each day, which is 31,200 per year (they're open six days per week). When Oliver's Market places the GO LOCAL and Made Local logos in their newspaper ads, they generate impressions for the brand estimated at 7.8 million per year.
With close to 375 members (as of this date) using the brand every day, you can see how the impressions can quickly add up to millions. Those are called gross impressions. Based on calculations from a sample of members, we estimate our current annual gross impressions to be 500 million.
Gross impressions can be converted to a commercial media value equivalent. After all, media is bought and sold on the primary basis of gross impressions, or exposure of an ad message to 'X' size audience. Commercial media prices can be expressed in a common denominator called "cost per thousand" impressions, or CPM. Since prices can range from $2 CPM to $200, we use a modal average of $20 CPM. That means our estimate of 500 million gross impressions has a commercial media value of $10 million.
---

---
The beauty of this shared brand experience is that as a group we didn't have to spend $10 million to generate 500 million impressions. We accomplished this by each member merely adding the brand to its current marketing as a conjunctive brand. Our GO LOCAL team has idenitifed a core number (14) of marketing tools that each member can use to increase gross impressions, usually at no added costs. When more of our members use the conjunctive brand to its fullest extent, we generate more brand value. Likewise, when we add new members the value grows.
How Our Shared Brand Value Generates Effectiveness
GO LOCAL's marketing goal is to shift purchasing of goods and services from non-local to local businesses. Our shared brand is effective to the extent it accomplishes that. Every business owner knows that in order to attract customers one has to promote one's business to potential new customers. Our shared brand effectiveness has a similar requirement.
The greater our brand value, the greater our influence to shift behavior. Our shared brand message is very positive for the community on many levels. When people act on our message, we can greatly improve our local economy. It doesn't ask people to buy more of anything. It means making a conscious choice—local first. The more times and the more often they are exposed to this positive message over time, the more likely they are to act on it.
Our diversity of business members matters. It creates more opportunities to reach more people more often.
Our group advertising programs like Made Local, Bank Local, Rewards Card and the Pocket Guide concentrate the power of our shared brand to accomplish more than any one member could do alone.
Many GO LOCAL Members Get It
Many GO LOCAL business members know how to get the most from their membership. Past CEO of Summit State Bank Tom Duryea, when asked how he made his GO LOCAL participation so successful for Summit, he answered, "You have to work it consistently".
We want to share a few of these bright spots with you. These are the members that really understand the power of the shared brand and have used it successfully to drive growth in their respective businesses. You can do this too. You benefit, and so do all other GO LOCAL members.
---
Oliver's Markets
(Go to Oliver's GO LOCAL listings here for their contact and location information. This GO LOCAL List is the easy way to find certified local businesses.)
---
Oliver's contribution to the Shared Brand Value
Annual gross impressions: 18 million
Dollar value: $350,000
Takeaway:
In short, the conclusion of Oliver's experience is that when a member fully embraces the GO LOCAL brand by using it in every conceivable way, it can make a difference in sales increases.
---
Here's a short video that shows the in-store branding from the past year's campaign. The new campaign is rolling out now with even further sophistication and refinement.
We have to say, the gang at Oliver's have set the standard for retail co-branding with GO LOCAL. Not only have they integrated the shared brand at multi-touch points within the store; they have also modified their POS system to measure sales of Made Local products. When a customer checks out, the receipt shows the dollar amount of Made Local products she purchased. Tracking also helps Oliver's compare the effectiveness of their marketing by contrasting Made Local sales vs. national product sales. The sales of Made Local products continue to outpace national brands by nearly a 2-to-1 rate of growth.