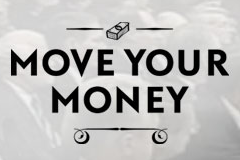 ---
People all over the country are choosing to move their money out of bigger banks and into smaller, community-oriented financial institutions that generally avoided the reckless investments and schemes that helped cause the financial crisis. GO LOCAL member banks and credit unions serve Sonoma County communities. This offers a great opportunity for citizens and businesses to switch to one of them and support our local banking institutions, which in turn, supports our local communities.
Here's a short video from the folks at Move Your Money. The filmmaker mashed up the idea with the story told in the classic film It's A Wonderful Life — a tale about a small banker, played by Jimmy Stewart, who almost gets crushed by a big banker. In the end, though, the community rallies around the small bank and helps save it.
Check out GO LOCAL member financial institutions by clicking on the link here.