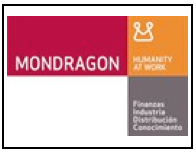 ---
(To view earlier and later posts, click on Articles > Topics > Economy in the site menu bar.)
9/19, Monday
Today we headed off early to the headquarters of the umbrella co-op that's called the "Mondragón Corporación Cooperativa", hereafter MCC, for our introduction to the group's philosophy and practices.
The MCC now counts 120 member businesses, all of them co-ops that have agreed to follow a well-defined set of principles designed to promote worker welfare, business acumen, and innovation in both technology and social reality.
There we watched a 15-minute video that touched briefly on the history of the cooperative movement in this town, including the formative role played by the visionary Catholic priest Fr. José María Arizmendiarrieta. Assigned to the Mondragón parish in 1941, "Don José María" sowed the seeds of cooperativism slowly and deliberately, starting with a trade school that taught students marketable industrial skills. In 1956 five of the school's early graduates founded the first worker-owned cooperative, a kerosene stove factory that became Fagor, today one of the largest and most successful industrial combines in Spain.
The video went on to describe the broad reach of the MCC member businesses: products ranging from superbikes (the Orbea brand, for you Levi Leipheimer aficionados) to management research and consulting; from auto parts to solar panel production machinery; from banking to supermarkets; from electronic controls to heavy-steel construction contracting. (Frank Gehry's iconic Guggenheim Museum in Bilbao was built by MCC member URSSA, who are also creating the huge steel trusses for the rail station at the Ground Zero Center in New York City.)
Next came Mikel's first lecture. He outlined in detail the intricate arrangements that provide worker owners in the 120 companies with an astonishing degree of job security, profit sharing, free health care, participatory management, continuing education, and consultative rights regarding the functional design of their workplaces. From its beginnings in 1956, the cooperative ideal stressed the primacy of labor (i.e., human beings at work) over capital: Capital is to serve labor, not the other way around. This tenet, along with the priority granted education towards social responsibility, forms the doctrinal core of the MCC and its member businesses.
Here's a powerful example of how that works in practice. The current global liquidity crisis has hit the Mondragón co-ops too. The markets for their products have shrunk, curtailing sales and forcing furloughs and layoffs. But a worker owner laid off at an MCC company doesn't lose his or her job; rather, they get transferred to other, less hard-hit companies, where they earn a minimum of 80% of their prior salary. Last year, 700 such transfers were carried out; this year, 400 of these 700 worker owners have been reinstalled in their former positions – but 300 are still transferred. They might end up staying in their new jobs forever; they won't be fired, that's guaranteed.
Next we went for a tour of the Fagor washing machine and dishwasher factory. Huge place – 700,000 square feet. Highly mechanized, computerized assembly lines; team-responsibility-oriented workforce. The company motivates its worker owners by paying them a living salary, having them share the company's profits, and rewarding them for suggestions about how to improve the efficiency of their respective work stations. When cutbacks have to be made owing to market failure, the workers vote – one person, one vote – on how best to structure the cuts. Ownership is the operative principle here: ownership of the company, but also of the dynamic processes that keep the company running. Ownership of the results, be they profits or losses.
"Solidarity in compensation" is one of the MCC's core principles. In practice, this means that at nearly all the MCC companies, the highest-paid worker owner is paid no more than six times the wage of the lowest-paid worker in the company. (In two companies, the MCC itself and the Caja Laboral bank, the figure is a tad higher: 7.5 times in the former, 9 times in the latter.) This means that the co-ops automatically have a competitive advantage over conventional companies, because they've got more money to spend on all the things that make businesses successful rather than spending it on egotist salaries.
In the afternoon, after a sumptuous lunch at the MCC's educational center Otalora (a medieval castle renovated to become a school, but with a first-rate restaurant on site), we hung out again with Mikel, who dug deeper into all the carefully crafted reciprocal arrangements and guarantees that hold sway in this remarkable system. He also got deeper into governance mechanisms, a topic I'd been curious about since my last visit in 2008: How do these people make decisions about these hugely intricate arrangements? What set of discussion rules do they employ?
The answer appears to be that they involve all the worker owners in so many discussions, at so many levels, that by the time a vote needs to be taken in the General Assembly of the company, people are pretty much ready to vote yea or nay. It looks to me like a quantity-oriented decision making process. Talk about things 'til you're blue in the face, then vote and get it over with. No need for Robert's Rules or some other parliamentary procedures; just make sure everybody's had a chance for heard input at various stages of the process, and things will settle out. Ultimately, the majority rules – like when two years ago, Fagor workers had to vote on whether to impose an across-the-board 8% pay cut, and 62% of them voted to impose it. Everybody doesn't exactly go home happy, but nobody (or hardly anyone) goes home feeling like they were ignored and gored.
Afterwards we bussed to Eroski, what I call the worker-owned WalMart. Super prices, super-broad selection of foods and other stuff, Fair Trade trinkets store right inside the main entrance, smiling, courteous checkout people. If we've gotta have hypermarkets, Lord let them be like this one.
Es todo para hoy – that's all for now folks. Check out the pics at the slideshow button above.