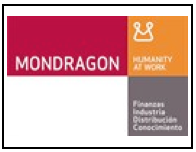 ---
9/20
Third day in Mondragón, home of the most successful worker-owned business network in the world. I'm here with a group of 25 Americans attending a seminar organized by Georgia Kelly (founder and director of the Praxis Peace Institute in Sonoma) and Mikel Lezamiz, Director of Cooperative Dissemination for the Mondragón Cooperative Corporation, or MCC. (For earlier posts in the series, click on Articles > Topics > Economy in the site menu bar.)
For me, today's high points were our lecture and discussion at Lagun Aro (home of the MCC's social welfare program), the lunchtime conversations with other seminar attendees, and the stunning mountain scenery illuminated by our first day of warm sunlight.
Lagun Aro's CEO, Carlos Something (sorry I missed his last name), described for us the group's history and function. Set up in 1959 as a cooperative in its own right, it was designed to provide social insurance (pensions, health care, sick leave) to co-op worker/owners who at that time, owing to their official cooperative status, were not covered at all by the Spanish national social benefit system. That changed in 1967, when co-op members were admitted as "self-employed" into the national system. Since then, Lagun Aro has been providing benefits supplementary to those of the Spanish state. Taken together, the two add up to an admirable source of social security for a worker/owner's whole life, and for his/her family.
In a nutshell, these folks get free healthcare for life, and an astonishingly generous pension when they retire. Though things are in flux right now owing to the economic meltdown we're all suffering from, and benefits will almost certainly be reduced, the MCC system is still unparalleled anywhere in the world. For example, upon retirement, usually at age 60-65, an MCC worker/owner receives 80% of his/her highest salary for life (!). One could argue (and one of our group did) that old people don't need that much money, and that it could better be spent on younger workers with more current expenses. Be that as it may, what the generous pensions once again demonstrate powerfully is the commitment of the cooperative enterprises to their worker/owners' welfare and dignity.
But for me, the most interesting aspect of Carlos' lecture and the subsequent discussion was the focus on the current economic crisis. As I write, the euro is looking like it might crash. Even if it doesn't, here in Europe, as in the U.S., normal economic life has been thrown on its ear. Several times, Carlos stated "We're nervous", seconded by Mikel, who loves to remind us "We're not a paradise here." They both point to the lack of liquidity – the lack of available money – as the proximate root of the problem faced first by the markets, then by the suppliers of those markets, then by the workers of those supplier firms. When people and businesses can't buy things because "the money's not there", a serious downward spiral results, and everybody suffers.
As you know from my last entry, the MCC does an exemplary job of relocating worker/owners for whom no work exists in their "parent" company. But I wonder, and apparently so do Carlos and Mikel, how long that job guarantee can continue if the economy continues to founder. Sooner or later, and especially if the euro crashes, there won't be any open positions anymore at the less-hard-hit MCC firms, because they'll all be hit hard. And what will everybody do then?
What we haven't talked about here in Mondragón yet, nor in the U.S. at large, nor in Sonoma County to any significant extent, is the answer to that question. What will we all do when the bottom falls out of our conventional, central-bank-run finance system? But we will talk about it here, on Thursday when our group visits the MCC co-op bank, the Caja Laboral. And we will talk about it increasingly in Sonoma County and elsewhere in the U.S. too, because we won't be able to keep ignoring it. Systemic problems cry out for systemic solutions, and desperate attempts at keeping a defunct financial system afloat are stopgaps at best.
In future posts I'll talk about some potential systemic solutions. I'm curious whether the MCC co-ops will play a pioneering role in implementing them.
Meantime, check out the slides. More tomorrow.