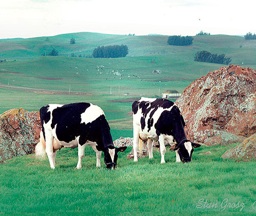 ---
As I was coming home along Hwy 101 from an extended trip and crossing into Sonoma County I was struck, as always, by what a beautiful place this is. On an impulse I turned left in Petaluma and headed out towards Two Rock, up to Valley Ford, by Freestone and home to Graton. This time of year the sight of the golden rolling hills streaked with vibrant green oaks, bay and madrone is a feast for the eyes and soul. As Tom Hayden said, and many before him, "this truly is God's chosen country." But we need to support our agriculture industry to maintain the beauty and utility we usually dismiss as "pastoral".

For me this is what I envision as the "real" California, not the pounding surf or spectacular Sierras. And yet this landscape which seems so serene is not really "natural." The open hills largely exist because of agriculture, mainly cattle and dairy, as well as the Land Trust who keeps it that way. Those hearty black and white Holsteins are really our environmental stewards. It was also instructive to see how grapes have begun to change even these perennial open spaces in places like Freestone. In bygone days it was the timber industry that altered our landscape. Today it is increasingly agriculture that shapes our vistas.

But agriculture is not something that exists in a vacuum. What we eat, in a very large measure determines the mix of farm products that are grown. Consider the cows and steers. Today, because of conditions out of their control, most dairy and cattlemen lose money on every animal they raise. Those who have turned to producing organic and "natural" products tend to be doing better. Unfortunately, because the local market is insufficient, much of what they produce is sold elsewhere. Their business would be far more sustainable if there was a more robust local market.

The issue of food is much in the news these days. The list is long. The poor quality of the food in school lunch programs and its impact on obesity is a concern. The lack of local distribution for our products that must be shipped out of county only to come back to find their way onto local store shelves is absurd. Nearly all meat animals have to be shipped out of county for processing. Many would like to see year-round farmer's markets. The struggles of small family farms only seem to be getting worse. More growers would like to go organic but find the high cost an obstacle and when they do convert they have to charge much higher prices to recoup their investment making more wholesome food out of reach for many. The current fiscal crisis is forcing reductions in agricultural education programs. Food manufacturers are having an increasingly difficult time finding locations for their businesses to operate. And on, and on.

These are just a few of the issues that are cumulatively impacting our farms. A consensus is beginning to emerge that we need a coordinated effort to examine our local food supply from seed to table. The issues around food, whether they are regulatory, financial or environmental, can be solved with a concerted and organized effort. To move this process forward the GoLocal Cooperative is focused on August as our Eat Local Month. We will be co-hosting several events to bring our members and the larger community together to begin to identify the barriers to increasing the quality, production and consumption of local food. For more information visit us at www.GoLocal.coop. Bon Appetit – and hoping you join us in our quest to Eat Local.