Refer Local is a monthly referral networking meeting for GO LOCAL members, supporting our mission of economic development marketing through relationship building and local patronage. Get to know your fellow GO LOCAL business members and gain new customers!
June 11, 2018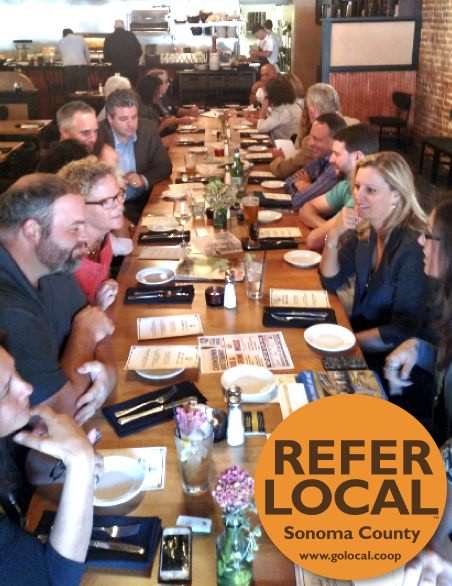 Refer Local meetings are open to GO LOCAL business and organization members. Guests are welcome to attend a meeting to check it out and consider becoming a member.
Lunchtime Meetings: 2nd Fridays, 12-1:30pm
Please RSVP to info@golocal.coop for the upcoming meeting so we can best plan seating. Check this schedule regularly - locations are subject to change through the year.
Featured Member: Ted Sprague, Lavish
August 10, 2018:

The Beer Baron, 614 Fourth Street, Santa Rosa
What is Refer Local?
Refer Local is a program of monthly referral networking meetings for the members of Sonoma County GO LOCAL Co-op.
Mission: Refer Local provides structured networking opportunities, a referral framework and various tools that enable GO LOCAL business members to give, receive, and track quality referrals in order to increase profits and customers. The program is based on the spirit of working together to strengthen the community through economic partnerships. Participants provide their energy and expertise to help keep our dollars local.
Why participate?
Refer Local provides a social format for GO LOCAL businesses to work together to share and gain customers, which in turn helps strengthen the local economy.
Who can participate?
Membership in Refer Local is for GO LOCAL business or organization members. Interested business persons can also attend on their own as a guest.
Guests: Refer Local members are welcome to bring guests to a meeting, including non-members. The guest must become a GO LOCAL business member to attend Refer Local regularly
New Members: All participants are encouraged to solicit new members into the program and into GO LOCAL.
Group Makeup: There is no restriction on the number of businesses from the same industry.
What are the meetings like?
The agenda for the meetings is generally as follows:
Informal networking - at beginning, when lunch is served, and at end
Introductions by attendee and host - 20 minutes
Member Spotlight(s) - 10-20 minutes
GO LOCAL updates - 10 minutes
---
10-Minute Member Spotlight : A GO LOCAL member will be featured at each meeting. This member may present to the group about themselves and their business, including time for Q&A. Spotlighted members are encouraged to bring a raffle prize for attendees.
SIGN UP NOW TO BE A FEATURED BUSINESS AT A 2018 MEETING.