---
Get it. Use it.
Support community and save!
If you want to support community with your purchasing power, GO LOCAL is here to help you.
Want a strong local economy? Want to save some money? Then put a GO LOCAL Rewards Card in your wallet, because it pays to buy local.
---
Participate with Rewards
GET A CARD: Pick up a free GO LOCAL Rewards Card with purchase at one of these GO LOCAL Reward Merchants, or contact us to get one.
COMING SOON...GET THE APP: A GO LOCAL app is coming in early 2021 that you can show merchants instead of a card...stay tuned!
COMING SOON...USE YOUR LOCAL DEBIT OR CREDIT CARD: Coming later in 2020, if you already have a debit or credit card with a participating GO LOCAL member bank or credit union, you can get a sticker to add to your card and use it as a GO LOCAL Rewards Card - one less card in your wallet!
REDEEM REWARDS OFFERS: See all Reward offers here.
---
How It Works
Find merchants who offer rewards and what the rewards are for each one. There are over 430 GO LOCAL businesses and around 160 of them offer Rewards with your Rewards Card.
Present your GO LOCAL Rewards when you shop.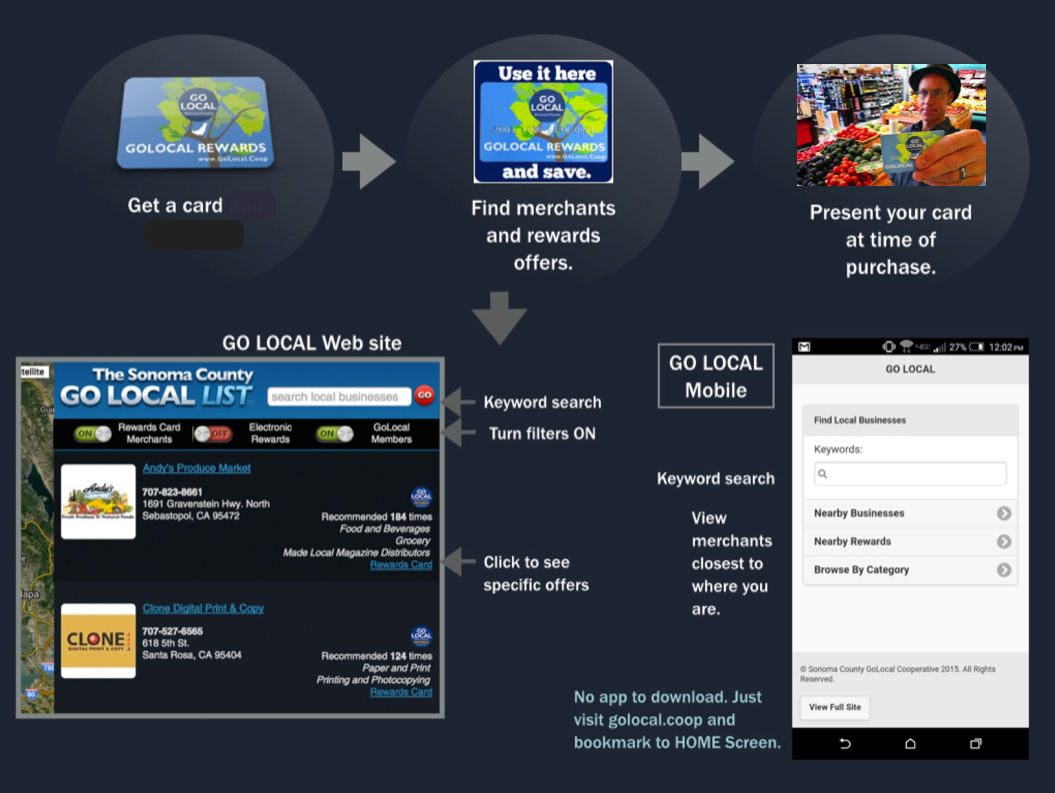 How Merchants offer Rewards
"Show Your Card" Rewards
Merchants offering "show your card" rewards will give you a discount or reward for simply showing your card.
---
Frequently Asked Questions
Q: What about my privacy?
A: Privacy is important to us local folks. Your email will only be used by GO LOCAL/Sustaining Technologies, and optionally by the merchant who issued your Rewards Card; your information will not be distributed or sold to any third parties. You'll receive customized email updates from GO LOCAL with your Rewards Card activity and monthly e-news, and you have the option to opt out of both at any time.
Q: My email or last name has changed - how do I update?
A: Email info@golocal.coop with your old and new emails or names and we'll update it for you!
---