---
Get it. Use it.
Support community and save!
If you want to support community with your purchasing power, GO LOCAL is here to help you.
Want a strong local economy? Want to save some money? Then put a GO LOCAL Rewards Card in your wallet, because it pays to buy local.
---
Participate with Rewards
GET A CARD: Pick up a free GO LOCAL Rewards Card with purchase at one of these GO LOCAL Reward Merchants, or contact us to get one.
COMING SOON...GET THE APP: A GO LOCAL app is coming in early 2020 that you can show merchants instead of a card...stay tuned!
COMING SOON...USE YOUR LOCAL DEBIT OR CREDIT CARD: Coming in early 2020, if you already have a debit or credit card with a participating GO LOCAL member bank or credit union, you can get a sticker to add to your card and use it as a GO LOCAL Rewards Card - one less card in your wallet!
REDEEM REWARDS OFFERS: See all Reward offers here.
---
How It Works
Find merchants who offer rewards and what the rewards are for each one. There are over 430 GO LOCAL businesses and around 160 of them offer Rewards with your Rewards Card.
Present your GO LOCAL Rewards when you shop.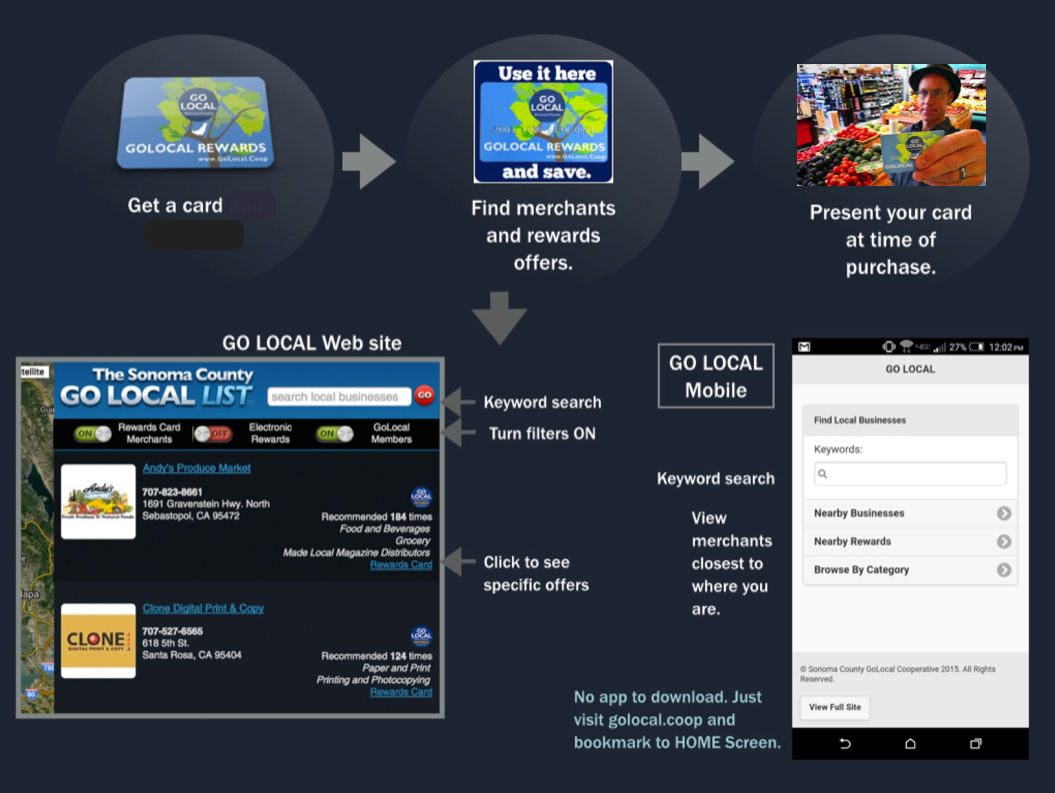 Merchants offer rewards in two ways.
"Show Your Card" Rewards (this will be the exclusive type of rewards offers starting 1/1/2020)
Merchants offering "show your card" rewards will give you a discount or reward for simply showing your card. Your card is not swiped, and these rewards are not tracked online.
---
Frequently Asked Questions
Q: What about my privacy?
A: Privacy is important to us local folks. Your email will only be used by GO LOCAL/Sustaining Technologies, and optionally by the merchant who issued your Rewards Card; your information will not be distributed or sold to any third parties. You'll receive customized email updates from GO LOCAL with your Rewards Card activity and monthly e-news, and you have the option to opt out of both at any time.
Q: How do I log in to the GO LOCAL website?
A: Use your email or username if you know it. Enter your password, or click the link that says "If you forgot your password, click here to reset it.". You will receive an email with a temporary password that you can reset once you're logged in. Note that starting 1/1/2020, Rewards Card data will no longer be tracked on our website.
Q: My email or last name has changed - how do I update my account?
A: Email info@golocal.coop with your old and new emails or names and we'll update it for you!
---
FOR ELECTRONIC "SWIPE THE CARD REWARDS", ENDING 12/31/19...
Q: I tried to register my card online and it won't register.
A: Your card probably hasn't been swiped yet, which activates it so it can be registered in your name. Email info@golocal.coop your card number and we'll activate it for you, or just start using your card at an electronic merchant to activate it.
Q: I forgot my card at a merchant that offers GO LOCAL Bucks. Can you give me my credit after the fact?
A: No; you must supply your card to the merchant at the time of purchase to earn and spend your savings.
Q: The merchant wasn't able to process my rewards card - can I get the rewards processed now?
A: No; this card was free to you, and we can't control internet interruptions at our many merchants. We ask that you just wait to spend and earn savings the next time you shop!
Q: What's the balance on my card?
A: Log in to golocal.coop. Go to "Your GO LOCAL Bucks Accounts" and click on your name to view your transaction history and balance.