---
GO LOCAL's third year of Local Business Recovery Fund
The impacts of COVID and other crises of recent years have mobilized our community to strategize many new ways to provide direct support to local businesses and organizations in need.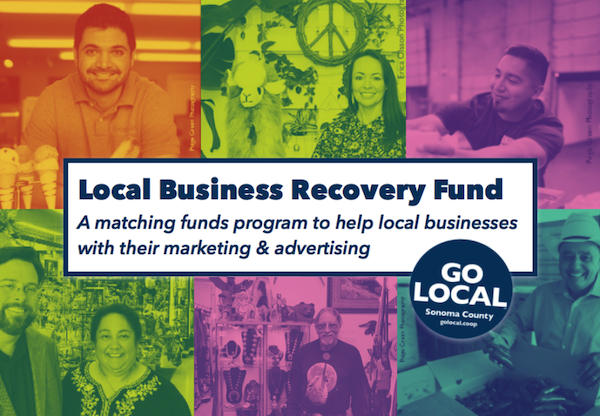 In 2020, GO LOCAL piloted the Local Business Recovery Fund that resulted in significant and immediate benefit to its participants, and we're excited to continue to offer this fund for a third year.
With these funds, participating locally-owned Sonoma County businesses can double their GO LOCAL marketing and advertising spend, helping them improve their marketing presence, reach customers and recover sales more affordably.
This modest matching-funds program is intended as just one of many sources of support for the local business community.
An array of economic and community support is necessary to help offset losses from the many recent challenges to Sonoma County businesses in recent years.
"Community-based financial relief programs are more efficient than state and federal support; are better tailored to the needs of local businesses to aid in regional economic recovery; strengthen collaborative partnerships that may extend into the long-term." (Institute for Local Self Reliance report, 2020).
Let's keep our local business community alive and thriving!
Read the June 3, 2021 North Bay Business Journal story about our program here.
---
TIMELINE
Secure sponsor funding - by July 31, 2022
Open application period for local businesses - August 1-31, 2022
Recipient businesses contacted - September 1, 2022
Meet with recipients to craft and launch their custom plan - September 1-31, 2022
The general timeline is aimed to especially support local Sonoma County businesses who particularly rely on robust Q4 holiday sales, which for some sectors can comprise as much of 50% of their annual sales revenue.
---
BUSINESS PARTICIPATION
LOCAL BUSINESSES CAN APPLY FOR THESE MATCHING FUNDS AUGUST 1-31, 2022.
How does it work?
This program is targeted to locally owned Sonoma County businesses who know they need to invest in some level of marketing and advertising immediately to help them increase their marketing presence and sales. Businesses who apply must be ready to commit either $500 or $1000 of their own investment to receive that same amount in matching funds.
Businesses commit $500 of their own for a total of $1,000 in marketing/advertising to spend with GO LOCAL, or
Businesses commit $1000 of their own for a total of $2,000 in marketing/advertising to spend with GO LOCAL.
What can funds be spent on?
GO LOCAL (the membership co-op) and Sustaining Technologies, LLC (the media company) are managing and administering these funds. Selected businesses will work with the GO LOCAL/ST team to assess their needs and to craft a custom marketing & advertising plan with this budget. The business' total budget of $1,000-$2,000 can be spent on their choice of a menu of GO LOCAL marketing and advertising options.
View the menu of marketing and advertising options.
How does my business apply?
The application period is August, 2022. Selected businesses will be contacted starting September 1st. Selection will be based on:
Date of application submission
Current status as a locally-owned business in Sonoma County.
A brief need statement, describing impact of global and/or local events over past few years to marketing/advertising budget.
Being prepared to commit to submitting full payment within 30 days of program selection (by Oct 1st), or in 2 installments within 60 days (by Nov 1st).
What happens once businesses are selected?
Selected applicant businesses will be contacted the first week of September to set up a phone, online or in person meeting to craft their customized marketing & advertising plan with their funds from GO LOCAL's menu of offerings. Then we'll get your plan rolling!
APPLICATIONS FOR 2022 WILL OPEN ON 8/1/22

.
---
SPONSORS
A huge thanks to our 2021 Sponsors who contributed $24,000 in matching funds: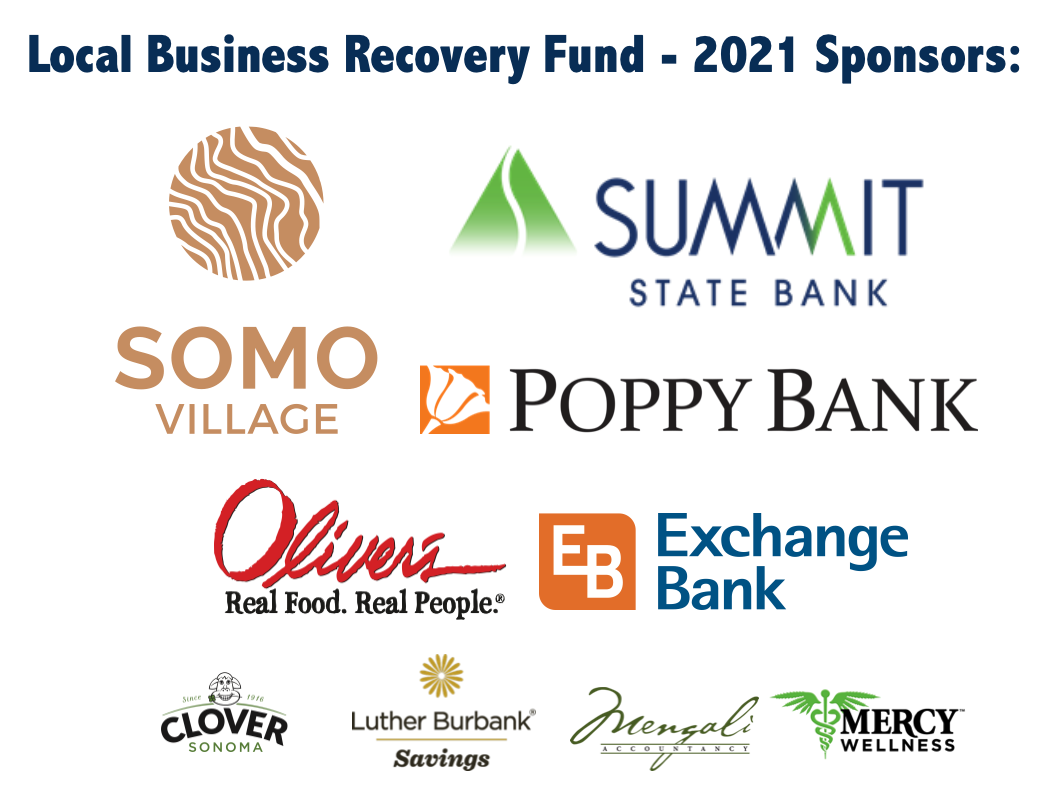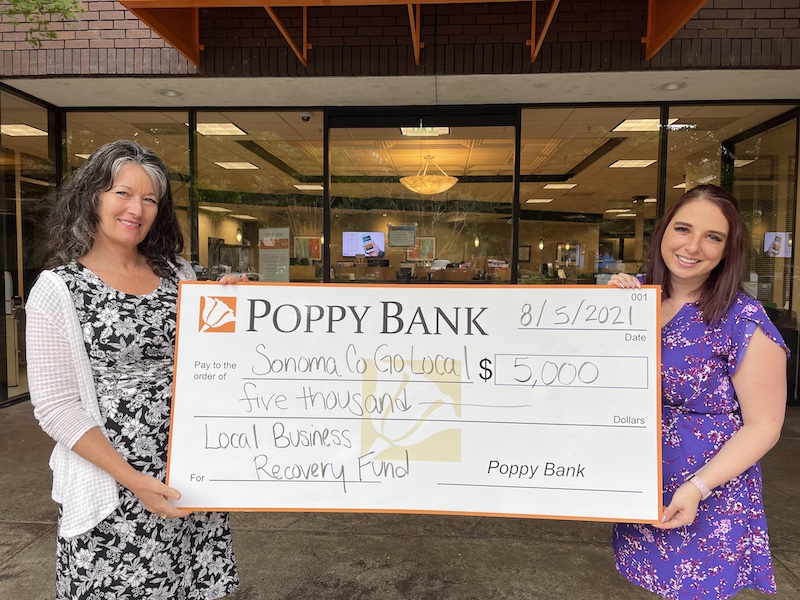 Photo: Janeen Murray of GO LOCAL accepting sponsorship check from Melissa Trunk of Poppy Bank
Please note that we welcome further sponsorship through August 31, 2022 so more applicants may receive this funding!
$1,000 - provides matching funds for 1-2 businesses

$5,000 - provides matching funds for 5-10 businesses

$10,000 - provides matching funds for 10-20 businesses 

$25,000 - provides matching funds for 25-50 businesses
View the sponsorship presentation here. 2022 sponsor benefits:
Logos featured in all promos, and in communications to participating businesses during the length of the program.
Sponsors can opt to match their funds directly to selected participating merchants for direct co-promotion and connection.
Sponsors may also provide additional resources to be shared individually with participating businesses.
---
TESTIMONIALS FROM PAST PARTICIPANTS
"Kindred Fair Trade suffered dramatic revenue losses due to the COVID pandemic in 2020...The matching funds enabled us to double our reach and truly contributed to better sales in December. Thank you so much for supporting this program. It's one of the reasons we are going to survive such a tough year. Thanks Janeen!" - Julie Montgomery, Owner, Kindred Fair Trade
"...hands down the best advertising investment we made in 2020.. the ad in the Shop Local insert (Holiday Direct Mail Magazine) gave us great exposure and brought numerous new customers to our store when we reopened in November. Many customers walked in with the shop local ad in hand excited to have learned about us and our upcycled fire hose products. Thanks again GO LOCAL for making things like this happen!" - Steffen Kuehr, Sonoma USA and TekTailor
"The matching of funds essentially gave Not Yer Momma's Granola double the reach… We truly could not survive without the continued support from folks committed to buying local and helping local businesses stay afloat. Thank you to GO LOCAL and the community members who helped to build the sponsorship that has helped so many of us during these difficult times." - Myra Hallman, Owner, Not Yer Momma's Granola
"Our shop was a 2020 GO LOCAL Recovery Fund recipient which enabled us to reach a much larger audience for a food drive… We've been able to reach 10's of thousands people through the different "GO LOCAL" magazines that were and will be distributed and/or mailed to households alone. Plus the added bonus of a live promotional spot on local radio. Bottom line is none of this is or would be possible without the matching funds we received. We owe a huge thank you to the "Local Business Recovery Fund" - Terri Erickson, Automotive Excellence
Read even more past participant testimonials here.
---
ADDITIONAL INFO
WHY GO LOCAL?
GO LOCAL Sonoma County is a co-op marketing network for locally owned businesses throughout Sonoma County for 12 years running. Sustaining Technologies, LLC is the management company that works hand in hand with GO LOCAL to deliver smart, locally targeted media services.
Together, we've created a $10M brand built on a strong reputation for growing the number of local-loving fans throughout the county into the tens of thousands.
GO LOCAL/Sustaining Technologies has become THE source for all things local in Sonoma County:
Promoting local businesses and organizations
Educating consumers about the benefits of buying locally
Helping hundreds of businesses annually increase local sales through marketing and advertising
And, ultimately, getting more dollars recirculating into the local economy.
Additional links:
About GO LOCAL
How GO LOCAL business membership works
Marketing and Advertising Menu
---
For inquiries, contact:
Janeen Murray
Director & Board President, GO LOCAL Sonoma County
Manager, Sustaining Technologies, LLC
707-888-6105 ext.2
j.murray@golocal.coop