Michael Shuman
Michael Shuman is director of research for Cutting Edge Capital, director of research and economic development at the Business Alliance for Local Living Economies (BALLE), and a Fellow of the Post Carbon Institute. He holds an AB with distinction in economics and international relations from Stanford University and a JD from Stanford Law School. He has led community-based economic-development efforts across the country and has authored or edited seven previous books, including The Small Mart Revolution: How Local Businesses Are Beating the Global Competition (2006) and Going Local: Creating Self-Reliant Communities in the Global Age (1998).
In recent years, Michael has led community-based economic-development efforts in St. Lawrence County (NY), Hudson Valley (NY), Katahdin Region (ME), Martha's Vineyard (MA), and Carbondale (CO), and served as a senior editor for the recently published Encyclopedia of Community. He has given an average of more than one invited talk per week for 25 years throughout the United States and the world.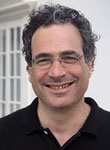 ---
Stories by Michael Shuman
In 2017, according to Census data, state and local governments collectively spent about $3.7 trillion. Increasing the flow of these trillions toward local businesses in the post-COVID era could generate enormous boosts in local income, wealth, and jobs. Moreover, this stimulus would cost your state nothing—in fact, it would probably save billions of public dollars.
Michael Shuman calls attention to eight pandemic responses that seem to be shortening our social distance—and that we all should consider embracing.